Home > Movies > Bollywood News

'Crimemaster Gogo is marvellous!'

July 05, 2006 18:17 IST



We are all regaled by Rajpal Yadav as he continues doing madcap movies. Even if the films themselves aren't up to the mark, Rajpal is always hilarious.

Syed Firdaus Ashraf spoke to the reigning Bollywood funny man and found out his five favourite comedies:

"It is difficult to pinpoint my favourite comedies," Rajpal said, "but I feel there are some comedy films that are very close to my heart."

Angoor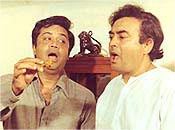 Cast: Sanjeev Kumar, Deven Varma, Moushumi Chatterjee, Aruna Irani and Deepti Naval
Director: Gulzar
"It's a great film because of the words and dialogues in the film. I feel the screenplay is very focused. It starts at a note and ends at that note. All the characters in the film begin their journey from one point, and then depart. The director has brought them all together at the end very well. Every situation is laughable in the film. He has done the job effortlessly."
Sholay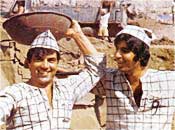 Cast: Dharmendra, Amitabh Bachchan, Jaya Bhaduri, Hema Malini, Jagdeep, Asrani, Sanjeev Kumar and Amjad Khan
Director: Ramesh Sippy
"I call it a comedy film, but I feel that is because Sholay is a complete film. It is the best in every aspect. You see the music, the editing, dialogues, action, drama, tragedy, and the emotions of this film and you will find everything is perfect. It is a flawless film. The comedy is too good. The comedy scenes between Dharmendra and Amitabh Bachchan are outstanding. The inclusion of characters like Jagdeep and Asrani, who played the role of the jailor, is out of this world."
Padosan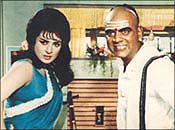 Cast: Sunil Dutt, Saira Banu, Mehmood, Kishore Kumar, Om Prakash, Agha and Mukri.
Director: Jyoti Swaroop
"Padosan is a three-dimensional film. The chemistry between Saira Banu, Sunil Dutt and Mehmood is too good. They have worked beautifully in the film. Kishore Kumar, I felt, did a marvellous job. The story is simple and you keep laughing all the time while watching this film. The music too is outstanding."
Jaane Bhi Do Yaaron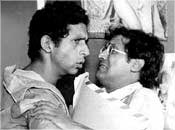 Cast: Naseeruddin Shah, Ravi Baswani, Satish Shah, Om Puri, Pankaj Kapur, Bhakti Bharve and Neena Gupta
Director: Kundan Shah
"A hilarious comedy film. It is a must-watch for all those who want to see Naseeruddin Shah in a comic role. I feel he is one of the best actors in our country. The film is a political satire and the subject chosen was a very beautiful one. Though the film is based on the complex subject of politics, it has been made very simply and shot beautifully."
Andaaz Apna Apna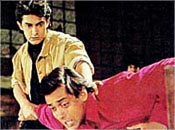 Cast: Aamir Khan, Salman Khan, Raveena Tandon, Karishma Kapoor, Paresh Rawal, Shakti Kapoor
Director: Rajkumar Santoshi
"It is very funny to watch Aamir Khan and Salman Khan throughout this film. I feel it is interesting that both these heroes acted in only one film together, and that too a comedy film. The comic timing of both the actors is very good. Paresh Rawal as Teja and Shakti Kapoor in the brief role of Crimemaster Gogo have done a marvellous job. You will laugh out loud all the time while watching the film."
"I must also mention great comedies like Pyar Kiye Jaa, Naya Din Nayi Raat and Namak Halaal."