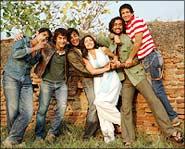 Aamir Khan's biggest hit abroad,
Rang De Basanti
, passed the $2 million benchmark in America on Sunday. The film, which has already grossed over $600,000 more than Aamir's Oscar-nominated
Lagaan
in North America, has also harvested about $1.5 million in the United Kingdom.
At the current rate of attrition, the film, which is getting plenty of repeat audiences, could end its run in America and
 the UK
with at least $3.85 million. Adding its gross in the Gulf, Australia, Singapore, South Africa and the Caribbean takes the total to $4.5 million. It could end its overseas run with a spectacular $5 million gross. Still, this isn't big enough to come anywhere near the $8 million gross of
Kabhi Khushi Kabhie Gham.
| | |
| --- | --- |
| | More on rediff.com! |
| | |
In the final reckoning, it could gross two times the money
Lagaan
made abroad and more than three times the gross of Aamir's successful but ill-fated (because of its exorbitant $8 million production cost)
Mangal Pandey: The Rising.
"I could not believe how compelling the film
(RDB)
is and how well written its characters are," said a young man at a recent screening in Manhattan, admitting that he knew nothing of Bhagat Singh and other revolutionaries extolled in the film. "What is also amazing is that we accept Aamir as someone who has been out of college for five years, though he looks much older even for that part," he continued. "He has a lot of charisma."
So potent is the film that, in its fifth week, it grossed $25,000 over the weekend -- more than what newcomer Taxi 9211 took in three days across North America in its opening weekend. Both films were released by UTV. RDB is the highest grossing film for UTV following such hits as Swades, which grossed about $1.2 million in North America.
"After a long time, there is a film with return visit value," said UTV's Lokesh Dhar, adding that despite inclement weather, many families made time to see RDB over the weekend. In several movie houses in the New York-New Jersey area, and in San Francisco, Los Angeles and Chicago, it had more full houses in its fourth week than in the second week. "Suddenly, people who saw RDB two or three weeks ago yearn to see it on the big screen all over again," said Dhar. "They want to see it with friends and family." He also added that though A R Rahman's music had become popular soon after its release, it is only in the last two weeks that it has "reached super hit status."
Though the film could end up with significantly less than what

Kabhi Kushi Kabhie Gham

took in North America in 2001, the latter was a multiple starrer. The

K3G

star cast included Amitabh Bachchan, Shah Rukh Khan and Kajol. Directed by Karan Johar, who had made a big splash with the 1998 mega hit

Kuch

 

Kuch Hota Hain, K3G

grossed about $2.9

 

million in North America and $4.2 million in the United Kingdom.
Johar is one of very few directors in India whose name deserves to be above the title of a film, but Rakeysh Omprakash Mehra was a non-entity. His first film Aks was a box-office turnip, yet that factor did not deter audiences from embracing RDB from Day 1. Another key factor to be remembered is that RDB, given the subject of the Indian political system, could not have drawn a significant number of viewers from Pakistan and Bangladesh.