Home > Movies > Bollywood News

Five questions for five beauties

A Ganesh Nadar | February 24, 2006 20:21 IST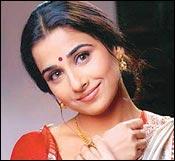 Yes, another award show.
Sony Entertainment Television, in association with the Filmfare Awards, has come up with the Face of the Year Awards, recognising upcoming talent who boast of beauty with brains. Bollywood heroines Ayesha Takia, Tanisha Mukherjee, Vidya Balan, Katrina Kaif and Sneha Ullal have been nominated.
The function will be held at the Mumbai Metropolitan Region Development Authority grounds on Saturday and shown live on Sony TV at 8 pm.
In order to test the beauty with brains factor, we called the five beauties with five questions. Sneha Ullal was upset about our asking questions about things that happened before her time, so we changed them. Vidya Balan was busy with meetings right through the day. She called us when she had a few minutes free, and got all the answers right. Tanisha will be back from Lonavala for the show. Katrina was asleep, while bubbly Ayesha, the darling of the youth, is in Dubai.
So, for the moment, here are Vidya's and Sneha's responses.
Question 1: Who is the Railway Minister of India?
Sneha: I don't know, yaar!
Vidya: It's on the tip of my tongue…but ( I give her a hint -- he is a funny man).. Lalu Prasad Yadav.
Question 2: Who is the Chief Minister of Maharashtra?
Sneha: (After using the Call-A-Friend lifeline) Vilasrao Deshmukh.
Vidya: Vilasrao Deshmukh.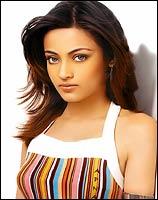 Question 3: What is the capital of the United States?
Sneha: New York
Vidya: Washington D.C.
Question 4: What was Amitabh's first movie?
Sneha: *pauses* (What's India's name in Hindi?) Bharat. (Another name?) Hindustani. (Count from one in Hindi.) Saath Hindustani.
Vidya: Saath Hindustani
Question 5: What significance does January 30 have for Indians?
Sneha. I don't know. (Mahatma Gandhi was assassinated that day.) No! He died on January 29!

Vidya. It is the day the Mahatma died.