Home > Movies > Bollywood News

How I won a lottery

Syed Firdaus Ashraf | February 20, 2006 18:01 IST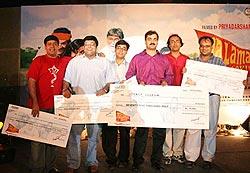 I never buy a lottery ticket because I know I will never win. I believe in the principle of working to make money, rather than relying on luck and a ticket. This opinion changed though, the minute I won my first lottery. Here's how.
On Saturday, February 18, the producers -- Sahara One and Percept Pictures -- of a film called Malamaal Weekly called journalists for a press conference to announce its music launch. They called later the same day to say they had sent me an invite, and asked me to carry along the enclosed lottery ticket.
Strike it rich with Paresh Rawal
| | |
| --- | --- |
| | More on rediff.com! |
| | |
The lottery plays a huge role in Malamaal Weekly. The film is about a lottery vendor (Paresh Rawal) who finds out that someone in his village has a winning ticket worth Rs 1 crore that has not been claimed. He decides to throw a party exclusively for ticket buyers in the village, hoping to steal the winning ticket from its uninformed owner. After winning the ticket, the rule of the game is that Paresh must distribute his Rs 1 crore among five people.

In much the same manner, the organisers laid out plans for journalists gathered at the event. There was a winning ticket worth Rs 1,25,000, but the winner would have to give out Rs 50,000 each to five people. Being the pessimist I am, I promptly forgot about the ticket in my pocket, safe in the knowledge that I would never win.

Before leaving, I received a call from a friend called Ashish Bhinde, a correspondent for the leading Gujarati weekly Divya Bhaskar. He was attending the launch with Hemant Sharma, his Executive Editor, and offered me a lift. On our way to the event, we made a pledge. If any of us were to win Rs 1.25 lakh, he would distribute Rs 50,000 among the rest of us.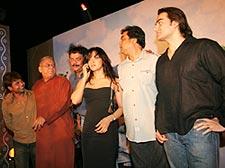 Surprisingly, when lead actor Paresh Rawal announced the prize, the winner was Hemant Sharma. And, as promised, he announced my name along with those of his other friends. I received Rs 10,000 for doing nothing. Absolutely nothing.
When asked what he would do with the money, Hemant said he would buy his wife a phone. Other winners were unsure. I said I would use it to buy a laptop. When told that the amount was too little, and that it could only be used as a down payment, I decided to treat Hemant and the other winners to dinner instead. it seemed only fair, considering he announced my name even when I had no right over that money.
What will I do with the rest of the money after taking care of that dinner? Buy a lottery ticket, of course.
Photographs: Pradeep Bandekar