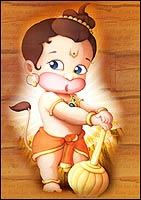 If you enjoyed the animated Hanuman last year -- and a lot of people did -- here's a bit of good news: Its producer has planned a sequel.
"We are in the process of scripting the film. We plan to release it by mid-2007," says Mahesh Ramanathan, Chief Operation Officer, Percept Group.
Hanuman was one of the most popular Diwali releases, and even outdid Salman Khan's Kyon Ki. It generated revenue of Rs 14 crore, on an investment of Rs 6 crore.
Coming soon: India's own Superman
The makers of the film were so enthused that they dubbed Hanuman in English and re-released it in December 2005. Now, they plan to dub it in Kannada, Tamil, Malayalam and Telugu as well. These versions will be released in April 2006. "We want to make a 3-D animation film on Lord Krishna," adds Ramanathan. "We want it to have a global appeal."
When asked why animation films did not pick up after the huge success of Hanuman, Ramanathan reasons, "It takes a long time to make an animated film. Even Hollywood takes two years to make a good one. Besides, in India, we do not have enough animators to make a good film."