Home > Movies > Bollywood News

'Women like bad boys'

Priyanka Jain | February 07, 2006 19:15 IST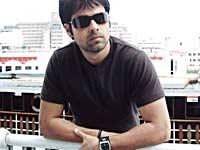 Emraan Hashmi -- who is quite a hit with young moviegoers -- has no fears about being typecast.
"I am very realistic about the roles I do. I wouldn't play someone very mature or someone I can't pull off. All the roles I have done are very intense roles," says the man who has come to be known as the Hindi film industry's 'serial kisser', thanks to his hit films which seem to thrive on dollops of skin.
"If you see a film like Murder or Zeher, the characters I play are in constant turmoil," Hashmi continues. "They are battling with something in their lives. They all have dark sides. Women like men with a bad boy image. They like men who are always on the edge, who take risks and who are unpredictable.
| | |
| --- | --- |
| | More on rediff.com! |
| | |
"Take the example of someone like James Dean who starred in Nicholas Ray's (1955 classic) Rebel Without a Cause. He is considered an icon even today for a sense of rebellion he had about him. I think there is some of that rebellion in all my characters. The righteous, proper heroes are very boring," Hashmi adds.

Hashmi is also considered lucky for movie songs. Many of the recent Bollywood chartbusters – like Woh lamhe from Zeher – are picturised on him.

In real life, Hashmi is mostly into Western music, and cites U2, Bryan Adams, Lenny Kravitz, John Mayer and James Blunt as favourites.

What about Hindi music? "I am not much of a Hindi music person. If you see my car, all the CDs in there are of my own movies," he replies.

"If you analyse all the hit songs that were picturised in my movies, you will find that they were sung by newcomers – the singers making their debut are either from Pakistan or a musician like Himesh Reshammiya foraying into singing," Hashmi says about his track record as being 'lucky' for soundtracks.

"For my next film Gangster, the music is by Pritam, who is again a newcomer. All these are very hummable tunes -- whether it's Bheegay hoth tere, Aashiq banaya aapne or Zeherili raatein. It's very essential that the first time you hear a song you should take an instant liking to it and be able to -- and want to -- hum it long after the song stops."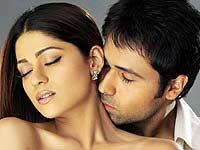 Though his family has Bollywood roots – his father was an Air-India employee, and his mother worked with a multinational, but his grandmother Poornima Verma was an actress -- Emraan says he was never inclined towards it.
"When you are a youngster, there is a phase when you look down upon the [Hindi] film industry. But in reality one is in awe of actors and movies. People say these guys dance around trees, do all stupid stuff, but when they get the offer they grab it. It's the kind of hypocrisy that even I went through," is Hashmi's candid confession.
The new hero on the block is also a gizmos guy. He likes the latest mobile phone models and is an avid gamer.
"I have a PlayStation 2 at home and I play lots of games. Right now my favourite is Burn Out 3. It's a nice, fast-paced game. You'll love it! I fiddle around with my PS2 and mobile between my shoots. At home, I download a lot of music. I am completely addicted to music," Hashmi says.
About fashion, he says he "wanted to create my own look, hence I had the earring and ruffled hair, something that Bollywood heroes did not prefer. There is a certain audience out there who has taken a liking to that. I am not much of a brand person and I love to live in my jeans and t-shirts."
Currently, Hashmi is shooting for Mahesh Bhatt's The Killer, in which he plays a taxi driver, in Dubai. Nisha Kothari and Irfan Khan also feature in the movie, which is based on the incidents of one night.
Then there's Anurag Basu's Gangster, starring Hashmi, Shiny Ahuja and newcomer Kangna, which will release around April, Subhash Ghai's Good Boy Bad Boy and Babloo Pachishia's Jhamela.
Which means Hashmi – who has done a course in animation and special effects and who says special effects is his "first love" – is rocking.