Home > Movies > Bollywood News

After Beckham, Chadha tries commercials

Aseem Chhabra | February 06, 2006 19:49 IST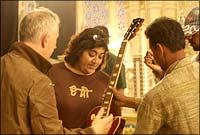 Gurinder Chadha's fans have been eagerly awaiting the director's next film, after last year's Bride and Prejudice, her Bollywood inspired take on Jane Austin's classic novel. Later this year, fans in UK and India will get a chance to check out Mistress of Spices – directed by Chadha's husband Paul Mayeda Berges.
But, here is a surprise for Chadha's fans – especially those living in the US. Last October, Chadha made a 10-day visit to Mumbai to shoot her first ever commercial, for the US based guitar company Gibson Guitar. The commercial Only A Gibson Is Good Enough/Empress, with Chadha's wacky brand of humour, and Bollywood's bright and vivid colours, costumes and a huge cast of extras, is currently airing on American television.
| | |
| --- | --- |
| | More on rediff.com! |
| | |
The commercial continues to run on local, network, and morning news shows and even ESPN until Valentine's Day. It will run again in the summer, coinciding with the Father's Day gift buying season. Fans of Chadha living outside the US can catch the commercial online.

In the commercial, an empress (played by Natasha Mago) attempts to please the emperor (Sumanto Chattopadhyay) with several gifts – his painted portrait, a vintage car, and even jewels. But the emperor looks disinterested, until he hears the strains of a Gibson guitar played by a rock star (Mithun Poojari of the Mumbai-based rock group Pindrop Violence). The empress then takes the guitar from the stunned rock star and presents it to her emperor.

To give the real feel for Bollywood-style opulence, the commercial features 90 extras, dressed in colourful costumes, dancing girls, fire-eating men, an elephant, ornate thrones, one fountain, and three crystal chandeliers. And Chadha also cast Bollywood character actor from Lagaan and Ek Ajnabee -- Raj Zutshi, as the court official.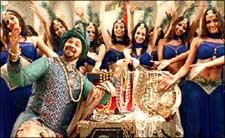 Chadha had expressed interest in working on commercials in the past, but her feature filmmaking career kept her busy. This time, when she was asked by Tom Korsan, who runs the Los Angles-based production house Great Guns USA, the director said, 'Yes.'
"We represent Gurinder in London and the US for commercials," says Korsan, from his office. "Gibson has its advertising agency Carmichael Lynch in Minneapolis, and they contacted me. They had seen Bride and Prejudice and said they really wanted her (Gurinder) to do this."
Korsan, his team and Chadha then travelled to Mumbai. The commercial was shot at Nitin Desai's studio near Khandala over two days.
"A LONG two days!" Chadha says via email. But it was mostly fun. "I'm comfortable with shooting in India and I work with a great team there. I know Raj Zutshi, of course, but the rest of the actors were cast in auditions in Mumbai," she adds.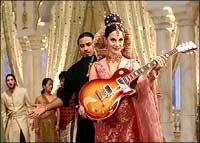 Earlier, in an interview published on the Gibson Guitar site, Chadha talked about the pleasures of directing a commercial as opposed to a feature film. "For me, it was a luxury to focus on what effectively was one scene as opposed to 50, 60 or 70 in a movie," she said. "So, I liked that, but I also like the intensity of all the energy that went into that one scene… It felt good to be able to focus really deeply on the one storyline and one narrative and then tell that story from many different angles."
Korsan, who had never worked in India, was impressed with the crew. "It was surprising how many there were as opposed to what we would have in America," he says. "The ratio, especially in the art and set constriction, was five men there to every one we would have here." He adds that the sets and costumes were all done by hand in India. "They hand-sewed the drapes, sewed the sequins on the silks -- everything was hand-painted, built by hand. Here, you would go to a prop house or wardrobe house and get what you wanted."
"It was totally different from working in Los Angeles," he adds. "Because here we are so restricted by the unions. Just financially, the currency worked much more in our favour in India. We would never have been able to do that spot here."
The commercial premiered on ABC World News on January 23. Then, last week, Korsan got an email from Kate Richardson, the Web Director of Gibson Guitar. Is seems the guitar company's customer service lines are flooded with queries about the rock star (Poojari) on the commercial. "It seems he is developing a bit of a following!" Richardson told Korsan.
"I auditioned him in Mumbai, but had no idea what an impact he would have on US rock fans," Chadha says. "So I may have created another star!" she adds, referring to the monstrous career of Keira Knightly, after she played the second lead in Chadha's Bend It Like Beckham. "The best thing is, Mithun knows nothing about it yet!"