Home > Movies > Bollywood News

'Angelina is very down-to-earth'

Raja Sen | December 13, 2006 20:17 IST



The funniest thing is that people -- educated, sophisticated people -- at parties and meetings, come up to me and excitedly ask the same question," sighs art director Bijon Dasgupta. "'Have you touched her?' 'Have you rubbed shoulders with her?' It's absolute madness, and I can't believe grown men acting like that."

His point is well taken, though when the woman in question is Angelina Jolie, one is more likely to forgive Bijon's acquaintances. The Bollywood art director worked on the Indian leg of A Mighty Heart, a film directed by Michael Winterbottom and produced by Brad Pitt. As can be expected, this quirky outsourced task made more of a stir than his recent film efforts, including the visually dazzling Umrao Jaan.

"The problem lies with perspective," Bijon agrees. "It's so depressing to see some girl from the television news channels sleeping on sofas in the hotel lobby, camping in Pune trying to get a shot of Brad and Angie. Why are we trying to be like the paparazzi?"

The superstars, while bringing along a sizeable contingent of the world's gossip hounds, also turned the relatively timid Indian media into tabloid piranhas, staking out celebs and breathing down their bodyguards' necks.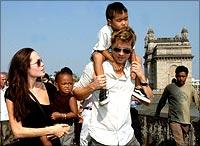 Bijon feels Brangelina ought have handled things differently. "Someone must have advised them wrongly. They should have met the press at the very beginning, and smiled for the cameras. What do the cameras want? They want their picture, their quote, and then they would have left them in peace," he opines. "In this case, they tried to escape the media, and our media decided foolishly to prove a point. So we sank to the level of their paparazzi."
Then again, why should they let the photographers take their pictures for free?" he asks. "If the media is trying to go international, why won't the celebrities expect to be paid, like they do abroad? For one picture of their kids, the prices are crazy. And the impressive thing is that when Angelina is asking a photographer for money, she asks him to make the cheque out to a charity. Instantly. Both her and Brad are so committed, working for several different charities; it's amazing."
The big act for Bijon, of course, was recreating Karachi in the city of Pune. "Michael is a fascinating director," reveals Bijon. "There is so much room for improvisation, but he is fanatical about detail. He shot for a few days in Karachi, and then wanted to recreate everything here. He even brought a couple of taxi drivers all the way from there with their cabs, just because he thought they had the right look!"
Bijon had to do the rest, fixing number-plates and altering building exteriors to transform Pune appropriately into Karachi.
The art director is obviously impressed by Winterbottom's methods, and his minimalism. "Everything was very basic, and all the lighting was concealed. Half the time he was shooting on handheld cameras, in natural light. And he shoots so fast," he said.
Without much of a crew around, apparently. "There would be maybe five people on the set -- Michael, his assistant, his cinematographer and his assistant, and someone for the sound. The rest of us were all in a production house right across the road, eating and waiting for our turn to do something. Everybody from some obscure actor to Angelina getting their make-up done, grabbing lunch, and waiting. Nobody gets in the director's way."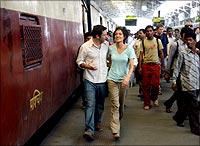 Not even the producer? "Oh, not at all," Bijon smiles. "Brad wasn't a bother in the least. He had the best time on the trip. He hung out with the kids, and then went and explored on his own, buying a motorcycle and checking out Pune."
He's assured that Brangelina explored India ravenously, loving the food and tripping on Rajasthan and Goa. "It's just that if the media left them alone, they might have seen even more of the country. But even this time, they had everything so well planned. Their hotel in Pune was picked because there was a lift right from the underground parking straight into their suite, and those guys had escape routes and everything all mapped out."
And while working, Angelina was a complete professional, traipsing around sets with some novel always in hand, occasionally grabbing a wrap from the production house kitchen. "She is very focussed, very down to earth. And what the media didn't realise in the first place was that this film has her playing a very deglamourised role -- here, she is a simple, French girl with different hair and ill fitting clothes. Why would she want to be photographed like that? Also, it takes so long for an actor to create a persona and get into the skin of the character, and the media breaking in just disrupts their creative process."
"The funniest thing is," the art director repeats as he looks back on his Brangelina experience, "that nobody hunted for the hero. Dan Futterman who actually plays Daniel Pearl strolled casually around Pune, taking pictures, enjoying India, and walking through hotel lobbies without being harassed. Everyone was so busy trying to take a picture of Angelina Jolie and Brad Pitt and their child that this guy wasn't disturbed at all. And he's the film's leading man."