Home > Movies > Bollywood News

Remembering Hrishida

Arthur J Pais | August 28, 2006 16:10 IST



Even as the highest paid actors ranging from Amitabh Bachchan to Dharmendra to Rajesh Khanna were prepared to cut their fee by more than 50 percent to be in a film directed by Hrishikesh Mukherjee in the 1970s, the filmmaker was gripped by self-doubt. The stars, and some of India's finest writers and composers including sitar maestro Ravi Shankar (Anuradha), loved working with him for they knew the soft-spoken but resolute filmmaker would get good work out of them.

But the filmmaker wondered from time to time why he was not able to make something half good as a film by Satyajit Ray, Mrinal Sen or Ritwik Ghatak.

Today as artists including Dilip Kumar and Rakesh Roshan who worked with him over the past five decades pay homage to the legend, who

died

at age 83, they will recall his milestone films. But they would surely remember the warmth and affection he brought to the workplace. And some may even remember the times he would wonder if he should continue making films.  

"When I reckon that I have directed over 20 films in two decades, I feel quite ashamed," he had told me a few months after the comedic melodrama, Chupke Chupke starring Amitabh, Dharmendra, Sharmila Tagore and Jaya Bhaduri, had been well-reviewed and termed a medium range success in 1975. Mukherjee was in Chennai soon after the film's release to attend a film event and spoke more than an hour about his work as an editor for Bimal Roy and then as a director.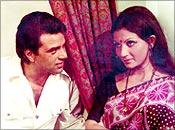 As an editor, he worked on some of the most notable films of his time. Apart from his own films such as
Anupama,
a bittersweet story of a father who never could never forgive his daughter (a remarkable Sharmila Tagore) for a tragedy over which she had no control, he edited films such as
Madhumati
for his mentor Bimal Roy. Many filmmakers including Ramu Kariat (
Chemmeen,
the award-winning Malayalam hit) working on their ambitious projects sought him out as an editor.
Even as he was complaining in 1975 that he had overworked himself and wondering if he could make a film that could win an award at a major film festival, Mukherjee felt it would be a very difficult task. He was afraid to make films that were really radical, he confessed.
"My friend (actor and director) Utpal Dutt can make a film like Jhor (in Bengali) about the British days, and he can do it without compromises," I remember Mukherjee telling me. "But I can't do anything like him. I have to safeguard the interests of many people when I make my films."    
He also said something to the effect that he could not refuse his friends such as Hemant Kumar, the composer and producer. "They know I make films on a tight budget," he had mused, "And they also know that most of my films do decent business."
And they often came to him when their previous films had not done well, hoping Mukherjee could revive their banner.
Mukherjee confessed his guilt as we chatted at Madras Woodlands on a balmy 1975 evening. He had started suffering from gout and wondered if he should give up directing films. But offers -- and requests -- started piling up. He directed in 1975 Chaitali, with Dharmendra and Saira Banu, to help the company founded by his mentor and friend Bimal Roy. But that film was not a success.
In 1980, the half a dozen films he directed including Rang Birangi were non-events. In 1998, when the comedy Jhooth Bhole Kauwa Kaate, starring Anil Kapoor and Juhi Chawla, bombed he decided he would not make any more films. He was 76. 
The successful films he directed including Satyakam, a compelling tragedy about an idealist played by Dharmendra who also produced it, were very different from the films Mrinal Sen (Akaler Sandhane). But the latter remained a friend and admirer of Mukherjee.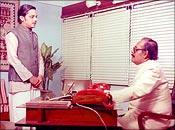 And there were many people, apart from the legion of actors ranging from Dilip Kumar (who acted in the unconventional
Musafir
, the
 three-stories-in one film) to Amol Palekar (the delightful comedy
Golmaal
), who said they cherished working with Mukherjee. And more important, knowing him as a human being.
Ravi Shankar told me several years ago that he composed music for just about a handful of films in Mumbai because he felt his temperament was very different from those who sought him out. He got along fabulously with Mukherjee, he added. Mukherjee understood the temperament of classical composers, Shankar said, and unlike most directors in Mumbai, he allowed the composer a free rein.
Shankar, composed the music for Anuradha, an intense film starring Balraj Sahni and newcomer Leela Naidu in 1960. It had one of the most memorable soundtracks of its times. But when the film bombed, Mukherjee went on to direct a more mainstream film, a romantic comedy called Asli Naqli, starring Dev Anand and Sadhana, and with Shankar-Jaikishen's popular melodies. The film was a success.
Whether it was Rakesh Roshan (who starred in the comedy Khubsoorat opposite Rekha in 1980) or Amitabh Bachchan who acted in eight films (Anand, Mili) directed by Mukherjee, the stars felt very secure in his company.
"He maintained old-fashioned values and work ethics that you could not easily find in our film industry," I recall Bachchan telling me many years ago. The actor had made a terrific impact as an idealist and beleaguered physician in Anand, in which Rajesh Khanna as an extrovert gave a solid performance too, in the year 1970. 
Bachchan said even when two big stars would be featured in a Mukherjee film, say Namak Haram which pitted him opposite Rajesh Khanna, the director would make it clear right at the start that their roles were well-defined. And that meant he would not tolerate star tantrums or complaints by a star that that he or she did not have the best scenes.
"He was tough and demanding," Bachchan said. "But he was also fair and inspiring. Working with him was something we looked forward to, film after film."
And that was why stars such as Biswajit (Do Dil) kept coming back to him. Now, you may say that Biswajit with his baby face was not much of an actor. Even then compare his work in Mukherjee's films to that of his other films, and you can certainly see a difference. It was yet another thing that many people wondered (and Mukherjee was one among them) why anyone would make a feeble romance like Do Dil.
Mukherjee, who directed over 40 films, was proud of a few things. "You will not embarrassed watching my films with your family," he had told me even after he had stopped working. "I could never tolerate vulgarity or violence."
Even as he had become a recluse in the last decade -- he had seen too many tragedies in his life he had once told me referring to the death of his wife, younger brother and a son -- Mukherjee was aware of his legacy.
As his friend and colleague Gulzar, who had assisted him as a director on many films before turning to the megaphone, said not too long ago Mukherjee himself sought solitude. He would have welcomed many film makers and actors to his home. But he had a raft of memories to give him company.  
Here are some of my favourite Hrishikesh Mukherjee films:
Musafir (1957): Three separate stories take place in one bungalow. Based on a story by Ritwik Ghatak, famed for his minimalist films, Musafir had Dilip Kumar appear in one episode, and Kishore Kumar in another. The film also had a sharply attached performance by Suchitra Sen.

Anand (1970): Originally written with Raj Kapoor in mind, the film about loneliness, fulfillment and the idea of living life to the fullest, gave a career boost to Rajesh Khanna and Amitabh Bachchan. The latter, who played the introverted doctor, benefited the most.

Satyakam (1969) : Dharmendra is noted for giving subdued performances in Mukherjee films such as Anupama but watching him in Satyakam (and in company of such sterling artists as Sharmila Tagore and Sanjeev Kumar), one wonders why he could not become a much sought-after character actor years later.

Bawarchi (1972): A fine domestic comedy, with plenty of wisdom. Fine work by Rajesh Khanna, Jaya Bhaduri and Harindranath Chattopadhyay.

Golmaal (1979): Arguably the finest comedy made by Mukherjee. And a runaway hit, too.