Home > Movies > Bollywood News

Where is Anu Malik?

August 24, 2006 18:06 IST


| | |
| --- | --- |
| Anu Malik | |
| | |
| | |
| | |
| | |
| | |
| | |
Sab ki leta hai is a weekly column giving you all the scoop on Bollywood.
This week, we start with the question: Where is Anu Malik?
We didn't know the answer to that one either, until we found him loitering around at the recent music launch of the film Zindagi Rocks. He was in a pleasant mood, too.
We feel a bit sorry for this talented music director, ever since nasal superstar Himesh Reshammiya has taken all the work from him. Not to forget three others going great guns -- Pritam, Shankar-Ehsaan-Loy and the upcoming Shantanu Moitra.
Malik has already been replaced by the top banners. After Murder, Mahesh Bhatt replaced him with Pritam in Gangster. Shantanu Moitra is working on the sequel to Munnabhai MBBS, although Malik scored the music for the first part. Apparently, even Farah Khan is not planning to repeat her Main Hoon Na music director in her latest film, Om Shanti Om.
Maybe Anu will now stop insulting aspiring singers on Indian Idol less, and concentrates on his music some more.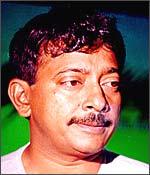 What's Ram Gopal Varma up to?
No one knows. He announces project after project through his selected band of journalists, and God knows whether these projects ever materialize.
We believe he is already courting financial trouble and has shifted office. He was planning an Initial Public Offering to raise money from the market, but no one knows what happened to that plan. The only announcement we have heard from RGV is, "I have not gone bankrupt."
Of the six films that come out of his Factory, five do badly and only one hits the right note every year. This has been his average in the last three years. Our suggestion to him: Give up being producer, concentrate on directing. And yes, stop talking to the press until a project has been completed.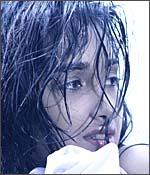 Jiah who?
One actress who is in news without doing much in life is Jiah Khan. She has supposedly been seen at all kinds of places with mentor Ram Gopal Varma after completion of the shooting for Nishabd. A lot is being written about her, but no one seems to know why.
The latest we hear is this girl is a popular actor's stepsister. At least that's what the rumour mills say. We don't know if this is true, or if RGV media managers are merely contributing to the publicity before Nishabd is released.
What's wrong with Urmila Matondkar?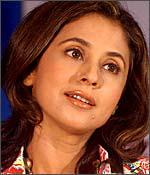 With barely any films in hand, the actress is now settling down to television shows. The same holds true for another actress -- Shilpa Shetty. Why don't established producers give them another chance?
Maybe Urmila should go back to the Ram Gopal Varma camp, considering he isn't doing much either. As for Miss Shetty, we are still wondering how this not-so-talented actress survived for so long in the industry to begin with.
Akshaye Khanna: Bald again
The latest we hear about Akshaye is that he has adopted the hairstyle of French footballer Zinedine Zidane. However, we don't know if Akshaye ever had a hairstyle. Hasn't he just had a receding 'hairstyle' since the days of Taal?
So, where's the news in this new report?