Home > Movies > Bollywood News

Dino Morea's ready for more

Priyanka Jain | August 23, 2006 14:43 IST



Dino Morea is handsome, and has an endearing smile. But apart from Raaz, almost all his ventures failed to leave a mark at the box office. One wonders if its one of those model-turned-actor disaster stories? Dino begs to differ.

"I think my career is shaping up pretty well. I made a debut in director Raj Kaushal's Pyar Mein Kabhi Kabhi opposite Rinke Khanna in 2000. I got lots of modelling offers after that, which I took up. Raaz followed, after that in 2002. After the film became a hit. I got a lot more offers, did a lot more movies, made a lot more mistakes and learnt more about the industry. I am quite happy the way I am progressing. I still have a strong foothold in the industry."

"I made mistakes like working with producers who did not complete their film, producers who did not market their films well and those who were frightened to spend money on promoting a film. There have been times I worked with directors who lost interest halfway into the film. These are the kind of problems one should try and foresee before getting into a project. I am trying my best to foresee them now."

So how does he choose a film now? "While signing a film, I take into account the producer, the banner and how much money they are actually going to put into marketing the film. If everything is set, then I speak to the executive producer to find out if the money they promise to spend on the film and its promotion is there in the bank before the shooting begins."  

Of the films he has worked in, Dino says he enjoyed working on Plan, Aksar and Holiday. He says Raaz is very close to his heart simply because it was such a big success. However he regrets working in Insaaf, opposite Namrata Shirodkar. He says he would have been better off not working in that film.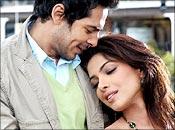 Besides films, Dino is planning to open a production company. He has already zeroed down on the director and script for the first film he will produce under his banner. "I think, as a business venture, it's a good time to start a production house. I want to make an adventure-thriller. We are going to cast soon, and start shooting some time early next year."
Dino is also planning to expand his brother's restaurant business. "We are arranging funds and looking for property to expand the restaurant business and then hopefully a lot more Crepe Stations will crop up all over India."   
In this Friday's release, Aap Ki Khatir, he plays Danny Grover, a Casanova who does not believe in long term relationships. "Danny's funda in life is to have fun, date lotsa women -- he is not ready to settle down. The film is about a big family wedding, it's about relationships and break-ups. The emotional theme of the film is quite interesting."
Dino romances both Priyanka Chopra and Amisha Patel in the film. "It was very natural for me to play a Casanova as I can relate to it. I have been in such situations before. In the film Priyanka Chopra is my first girlfriend. After we break up, she tries to make me jealous with her hired boyfriend Akshaye Khanna. But, in due course, she realises I'm in love with her step-sister Amisha Patel, and she falls in love with Akshaye."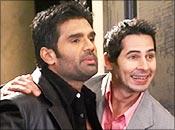 And what of reports about Dino being upset with producer Ratan Jain for not highlighting him in the promos? "They are rumours. I still maintain that Ratan Jain is a fantastic person and producer. By saying things like that, people create problems for me. I have never had a problem with Ratanji. It's been wonderful working with him and Dharmesh Darshan so far. I knew the script beforehand and exactly what my share is going to be. And I play a very interesting character. Everybody's character in the film is interesting. The story revolves around Priyanka's character and how she deals with relationship issues. Matching up to another character is not a problem. As long I play my character well, it will stand out and people will notice."  
"We had lot of fun on the set. It was so cold while shooting in England. We would all sit near the fireplace and play word games, Scrabble, Pictionary and antakshari in between shots."
Dino is currently working on Brahm, directed by Pawan Kaul. "Brahm is an intense drama about relationships. Model Sheetal Menon is cast opposite me. Milind Soman is playing my older brother." Dino has also signed Vikram Bhatt's next and Anant Mahadevan's Anamika.