Home > Movies > Bollywood News

Salman Khan in Call Centre

Raja Sen | August 10, 2006 17:40 IST

Fresh from the success of his second film Bluffmaster, Rohan Sippy made an interesting announcement last December. He'd picked up the rights to One Night @ The Call Centre, and was going to start production soon.

Chetan Bhagat's debut, Five Point Someone, about the life in an engineering institute, connected massively with the youth, who picked up the economically-priced copies hungrily. His follow-up, One Night... mirrored the alienation and angst of the call centre, a current metro phenomenon -- resultantly turning into quite a phenomenon itself, a breezy overnight-read that became very popular indeed.

And Bollywood, that great big dream factory so tragically short of ideas, just had to come a-knocking. Rohan's announcement was curious -- primarily because it featured Bollywood adapting a very contemporary novel, instead of its usual reliance on aging classics, and secondly because of the director's fetish for Abhishek Bachchan, who stars in all his projects. This was suddenly a production to look forward to.

But if you hang around in Mumbai long enough, you'll realise that announcements are often way too premature. Sippy is now detached from the project, because of an enthusiastic Atul Agnihotri, who has secured the rights and is pursuing the production with gusto.

Chetan reassures nothing went wrong between him and Rohan. "He's just too busy with the production side. They produce a lot of films, and he's involved in all of them, not just the ones he directs. So he has to concentrate on 4-5 films a year." Fair enough, but not exactly what the novelist was looking for. "I want a guy who's obsessed (with my story). Thoda madness hona chahiye -- he should be a little mad."

Enter Atul Agnihotri, the actor who turned director two years ago with the unsuccessful Dil Ne Jise Apna Kaha. Realising the lack of substance and detailing in the average Bollywood script, Agnihotri had been looking to adapt a novel, and appropriately devouring Call Centre over one night, was confident he'd found his book.

Atul recollects the evening, saying he was so thrilled he had to surf the net for details on Bhagat immediately. "I spent the night online, searching for this 'Chetan Bhagat.' Finally I found his web site, and a number for a PR person. I called her up the next morning. I had to."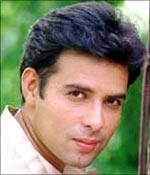 Sometimes it's good not to know. Agnihotri (left) wasn't aware that Bhagat had sold the book rights until the two spoke, by which time the writer was convinced about the director's passion. "Atull became freaking obsessed! He constantly kept asking me, 'What has Rohan done so far?'" The answer? Not much. The film was a part of the Sippy slate, but marked for a much-later date. Agnihotri's restlessness won through in the end, and Bhagat went to discuss things with Rohan's dad, legendary filmmaker Ramesh Sippy.
Everything, Chetan smiles, was very amicable. "I went to Rohan's dad, and explained my situation. I told him that I had a great offer, and that I really wanted Bollywood to see my work as a writer." Negotiations were made and Chetan's deal was simple: once the floodgates open for him, he'd definitely write another book the Sippys can adapt. "I really like Rohan, and I'm sure we can work together. He's from Stanford, very knowledgeable, and is trying to balance the commercial with 'something different.' It's a brutal business, within which we have to create something beautiful."
In terms of directors, Atul isn't the first to come to mind, and both writer and director agree. Atul admits the first film was a disaster, but is confident about bouncing back with a good script. "After the last film, we identified lots of problem areas, where we went wrong," he says. "And creatives are the mother of any project. The script, the plot, needs to be foolproof. And with a book, it's already in place. The author has already devised all the plot-points, so it makes sense to extend that onto screen."
And Chetan is conceivably easier to translate onto film. "This is how I write, man," the author laughs. "You won't find long descriptions of a branch in my books. It's all dialogues and action." This is a successful populist writer who isn't even aiming at high art. "I write humour, and there's a huge demand." Publishers would attest that Bhagat sells, both bestsellers still minting money. The writer sums up the Indian market well. "People don't want to come for wine tasting; People want to get drunk."
Writer and director are understandably tight-lipped about the cast. Things are "almost" finalised. "The thing is that the actors each take a week to read the novel," explains Atul, "and then once they've read it, they start seeing themselves in certain roles -- which might not be the roles we're considering them for. Lots of actors are interested. We're just settling in who fits in where. Happily."
A formal announcement about the cast and the crew is set to come in a couple of weeks, and it is likely to shoot in Delhi this winter, given the book's natural setting among the Gurgaon call centres. But pushed, Chetan lets a certain fact drop. Atul's superstar brother-in-law Salman Khan will make a cameo appearance, playing a man the hero meets on a train.
A quick peek into the novel showed that this was quite the casting announcement. The nondescript 'man on the train' is Chetan Bhagat himself, popping into his own pages. Kicking off your Bollywood innings with Salman Khan playing you... not bad for a debut scriptwriter. Not bad at all.