Home > Movies > Bollywood News

Shilpa: Marriages are not easy

Priyanka Jain | August 04, 2006 12:33 IST



She has all the elements: elegance, grace, beauty and that perfect figure.

Yet Shilpa Shetty has never touched the big league a la Kajol, Preity Zinta or Rani Mukerji. "I have no regrets about the way my career has shaped up. I believe I will get what is destined for me. Meanwhile, I do quality work and am happy that I have carved a niche for myself," says the gorgeous actress, dressed in a printed green dress with chunky gold earrings.

This Friday sees Shilpa in Director K S Adhiyaman's Shaadi Karke Phas Gaya Yaar, opposite Salman Khan. The movie was completed two years ago, but did not release until now. Will that affect its success? 

Shilpa doesn't think so: "For the audience, it doesn't matter when you shoot or release a movie, as long as they can relate to it and enjoy it when it is shown. The critics may create an image of it being an old story now, but whether old or new, the story is still contemporary, something anyone can identify with. It's a very happy occasion for me as all of us have invested a lot of time, money and effort into the movie. I am glad it's finally seeing the light of day, and I hope people will like it."

In Shaadi Karke Phas Gaya Yaar, Shilpa plays an Indian model blindly influenced by the West. She falls in love with Salman's character and both of them are madly in love with each other -- till they get married, that is.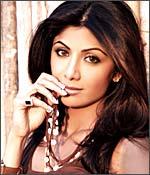 Then come the differences. "Marriage isn't easy," says Shilpa. "We try to show that in a very romantic and comical way in Shaadi... The movie isn't preachy. We have shot sequences that happen in most joint families. When a newly-married girl moves into the house with her in-laws, there are teething troubles while she adjusts to the family. From the couple's point of view, it's a serious matter, but for the audience it's very funny. The director has done a great job. It's a nice, clean family entertainer.
"After actually getting married, they get disillusioned. We have tried to show that marriages are not easy but it can be worked out. You need to be little more tolerant," she added.
Is that the reason Shilpa still hasn't tied the knot? "Certain things are not manipulated, and I would definitely not want marriage to be manipulated. We don't plan to be in love; it just happens. So I'm waiting for love to happen and then culminate into marriage, because I believe in the institution of marriage. My parents have had a great marriage and I would also want to have one."
She considers Salman a great friend. "I have known Salman for 14 years. We met while performing at a show abroad. He is very good at heart. If he is your friend, he will stand by you no matter what. When you try to irritate him, it's only human tendency to react. A public figure does not mean you are public property. People tend to forget that. To me, Salman is a great friend who will always be there in time of need, and the same goes from my side."
Shilpa is trying to move away from the typical song and dance numbers, but the audiences want more jhatkas. "I don't miss the dance numbers, but people miss seeing me in them! I keep getting letters from fans saying 'we should see more of you dancing'. Personally, I want to do only the kind of roles that justify my (skills) as an actor; I don't want to be typecast. I have done glamour, love stories, comedy, and also tried my hand at action. I have done serious films like Phir Milenge. For me, it's an exhilarating experience to be able to play different characters. I am here to entertain people.'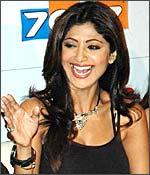 She's signed on for director Anurag Basu's next film, Metro. "When I saw (his) Murder, I loved it. Six months ago when Anurag approached me, I wasn't sure if I wanted to be a part of the project. Then I saw (his) Gangster and thought I should have said yes. It's a good role, and the film is realistic and, at the same time, commercial." 
Anil Sharma's Apne, which features Shilpa with Dharmendra, Sunny and Bobby Deol, is a project she will not speak about." Anilji has strictly instructed us to not talk about the film, and I don't want to irritate him. For starters, it's a film with a very Punjabi touch to it. And I enjoyed working with all three Deols together."
Shilpa's faced a lot of controversy recently, in connection with  some allegedly lewd photos. But she isn't giving in. "I am a born fighter. I think when you believe in something and you think you are being wronged, you need to stand up and voice what you feel. I stand by my convictions. If I believe someone is taking undue advantage to seek publicity at my cost I am going to stand up. I am not going to be a sitting duck."