Home > Movies > Bollywood News

'People are comparing Tere Naam with QSQT!'

Priyanka Nair in Mumbai | August 21, 2003 18:37 IST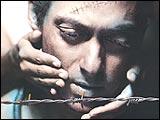 If you ever wondered about the power of the media and of publicity campaigns, Salman Khan's Tere Naam should be proof.
Prior to its release, Satish Kaushik's film was widely touted to be an autobiographical film on Salman. It was said to be his true love story. Salman, for his part, vehemently denied that the story of Tere Naam bore any resemblance to his life.
| | |
| --- | --- |
| | More on Rediff Movies! |
| | |
Nevertheless, the hype resulted in one of the biggest openings seen in the movie history. Acting editor Komal Nahta reports in Film Information that the collections at Meerut's Nandan cinema have broken records over the last five years. Two hours after the advanced booking counter for the film opened for the first time, the theatre sold Rs 3 lakh (Rs 300,000) worth of tickets.
The response to Tere Naam surpassed that of Gadar -- Ek Prem Katha, Lagaan, Kabhi Khushi Kabhie Gham, Main Prem Ki Diwani Hoon and Koi... Mil Gaya.
Jodhpur saw almost a dozen people donning Salman's Tere Naam hairstyle for the first day's show. And this was the place where Salman had received the maximum flak after his black buck case.
In Mumbai, the film opened to 100 per cent collections. In Delhi, the film opened to 81 per cent collections.
Trade analyst Taran Adarsh noted in a review, 'the hype surrounding the film resulted in a strong opening and, coupled with its merits, it should prove an earner for its investors. Business in the Hindi belt should prove to be the best, considering the backdrop of the film [North India].'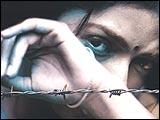 Adarsh remarks, "The film has been made at a reasonable price, so it was already safe in its first week of release."
"Considering that Salman received a lot of negative publicity, the kind of opening the film got is mesmerising. Besides, a Salman film has released after a long time [the last was Yeh Hai Jalwa in July 2002]. Tere Naam's promotion as a 'true love story' worked in its favour. The audience, which interpreted it as [former girlfriend] Aishwarya Rai and Salman's love story, came in hordes. Lately, Salman has been more cordial with the media and, this time, it helped him," Adarsh adds.
Indu Mirani of Box Office says, "I believe the film's collections have dropped drastically since Monday. I have learnt that multiplexes are running to half-empty halls. The film drew a great initial because of the sympathy wave for Salman. The credit should go to Vivek Oberoi for that. But the fact remains that the film promised a lot in its promos. It did not deliver. People expected the film to be Salman's life story. That wasn't good. It was bad for the film."
Producer Sunil Manchanda claims, "Only by the end of the week will we know how big a hit Tere Naam will be."
Salman Khan is not too bothered about the fate of his latest film. "I have done my job," he says. "Even though my last few films have not done well, my average success rate is, out of the 100 odd films I have done, only about nine have failed. I think that is quite good."

Director Satish Kaushik claims the film is a smash hit. "I am happy that people are comparing Tere Naam with Qayamat Se Qayamat Tak and Ek Duje Ke Liye. It makes me feel good," he adds.
When told that film critics and trade analysts feel the film has got a mixed response, Kaushik said, "I have not made the film for critics. I have made it for the public and they have loved it. I have got positive feedback. I have also learnt that women cried while watching the film. That is a good sign."