Ashutosh proposes, Aamir accepts
Arthur J Pais in Toronto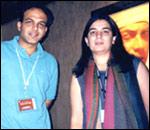 When Ashutosh Gowariker says he is not in a hurry to make his next film, you'd better believe him.

He can't understand why everyone wants him to begin his next project immediately, when he is "still involved with Lagaan

".

Gowariker and the film's producers, Aamir Khan and wife Reena, are still trying to sell the film to mainstream distributors. The film has already been screened in many countries overseas.

"I did not have a job for five years, ever since I began working on Lagaan," Gowariker says, sitting in a quiet corner of Park Hyatt hotel. "Surely, I can wait for a little while before commencing my next project."

He says that Aamir Khan has agreed to work for him again. "I don't know if it will be his very next project. It depends on what he is interested in -- and whether he likes my story idea."

Right how, Gowariker is mulling several ideas.

"I would love to make a film that takes up a number of strong ideas and present them in a coherent, entertaining way, like in Lagaan," he says.

"A compact screenplay is a must for the success of any film. But even with a good screenplay there is no guarantee a film could work out," he admits.

"Sometimes, everything looks fine on paper," he explains. "But if the script is not executed well, you have a bad film."

A lot of people think that Lagaan is his first film, he says. Very few have seen his first two films, Pehla Nasha and Baazi.
"When I made those films, I wanted to please the audiences," he chuckles. "But when I started working on Lagaan, I wanted to make a film that lived up to my satisfaction."
Though the film has received attention from such mainstream publications as Time Out and trade magazines such as Variety, it has not caught the attention of mainstream distributors like Miramax or Fine Line.
He is aware that some distributors might frown at its length and some song sequences.
"Songs are an integral part of this film. They are part of our culture. They will not be removed," he says. The film received an excellent response from a white audience at a public screening at the Toronto film festival. The film has already had a profitable run in the desi cinema houses in the city.
What if a company like Miramax, which has distributed huge foreign-language hits as Life is beautiful and Il Postino, agreed to distribute Lagaan but insisted on slashing its running time?
"They certainly know their business," Gowariker says wryly. "But I know my film better."
Also Read:
On the sets of Lagaan
Lagaan wins top honours at Locarno
Aamir's biggest hit
The Ten Samurai
Aamir Rocks!