Ruchi Sharma
Fardeen Khan is riding high these days.
With two hits in his pocket and the drug arrest fiasco behind him, he oozes confidence and gaiety.
Evidence? The Love Ke Liye Kuch Bhi Karega promotional party. He played up to the cameras and then some, leaving people startled. They never thought he could speak so much. And so well.
Success for Fardeen came hand-in-hand with a lot of fame for all the wrong reasons. After a spate of critical acclaim for his last two hits -- Jungle and Pyaar Tune Kya Kiya -- one wonders what his gameplan is.
"Well, much as we like to believe that we can plan and execute things perfectly, I firmly believe that things work the way they want. This has been true of my personal life as well as my professional life.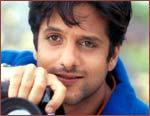 "So I really don't have a gameplan, as it were. I think there is something powerful known as fate, which is way beyond our control. I have left it to that," Fardeen says, with a faraway look in his eyes.
The roles he is doing now are hardly in the realm of the regular -- a victim of obsession, for instance.
But then Fardeen does what feels right. Roles are as good as they are portrayed, and as good as the director, script and actor can make them.
"I think acting is something that can be likened to a lesson in psychology. You have to become someone else. But at the same time, there is a bit of you in that person, too. You try to think of being a person in a particular situation -- perhaps you've never been in that situation, but you have to portray it. It's a tremendous challenge," he says.
Fardeen is a veritable bag of surprises. You don't expect him to answer as eloquently and, sometimes, philosophically, as he does. Somehow, the image is not in sync with the guy you've seen and heard of so far. "Umm. Perhaps. But then it doesn't take too much effort to answer questions that you know are going to come your way," he says, candidly.
At some point in time, he had stated seriously that an actor has to have some element of responsibility towards the viewing public. His own set of responsibilities, don't seem to have appeared yet, what with the recent fiasco that got him on a hugely public pulpit of criticism and an ensuing wave of sympathy.
"I don't know what others feel about this. But I believe that in being responsible towards people, you have to give them your best. Which I have done. You have to give something of yourself to every role you play and make it worthwhile for people who come to watch your film.

"For instance, I would never do a role for the wrong reasons. It would have to be something I believed in, something I feel I can convincingly portray to the people who come to watch. That's what I mean by responsibility to the audience," saying which he stares into space.
"I want to do work that is thought-provoking. Something that makes you think."
The art movement? "This is a constant dilemma. I don't know what you mean by art cinema. Isn't good cinema art? I think it is. If something is beautiful and appealing to the senses, it is art. It need not be totally serious and devoid of entertainment," he says, almost as though speaking to himself.
And once his train of thought has begun there seems to be no interrupting this man. "You also have to think about how seriously people take actors these days. See, they have a lot more choices now. So I believe that you should never underestimate the film viewer. You know what I mean?."
With single-hand-count films behind him, the logical question is what kind of films would he like to do? "Every actor wants to break new ground. Roles that will help me learn and grow as a person and an actor would be my choice. I want to do roles I can relate to, not something I can't even imagine.
"Unrealistic stuff doesn't fit well with me. Actually, now that you ask, I have never really thought about it. This is a first," he smiles, disarmingly.
What about the actresses he would like to work with? "Kajol! I am probably her greatest fan. I think she is amazing -- God's gift to cinema. I would love to work with her.
"Another lady I think is spectacular is Nandita Das. She is just so perfect. And her acting, I really have no words to express how I feel about it," he gushes, all in one breath.
What about his leading ladies so far? "Urmila is a dream to work with. I have never seen such a disciplined actress. She inspires me. She's always on the set lines learnt and her act together. She's always willing to help everyone. She is fantastic.
"With Tina, (Twinkle Khanna), it was like a load of fun and very comfortable. We've known each other for ages now, so we were critiquing each other's work, goofing off and stuff like that.
"She is great to work with as well. I can't think of anyone else I have worked with," he says, adroitly adopting a black look at the mention of one Meghana Kothari.
Directors? "Actually, anyone who has a sane script and vision to see what the film is going to look like is fine with me," he says, suddenly in a hurry to leave.
He promises to keep in touch and rushes off in a cloud of exhaust. At the end of which you're still wondering what hit you.