Home > Sports > Football > PTI > Report


Govinda starts campaign from local train

March 26, 2004 12:07 IST
Last Updated: March 26, 2004 12:57 IST



Bollywood star Govinda, a day after being nominated as the Congress candidate from North Mumbai Lok Sabha constituency, on Friday took a local train from Borivali to hometown Virar.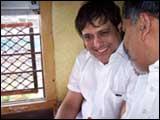 He will take on five-time Member of Parliament and Union Minister Ram Naik in the forthcoming election.
Govinda, popularly called 'Virar Ka Chokra', said the journey had brought back memories of his 'good old days'.
"The only thing that I cannot do today while travelling in a local train, which I used to do that time, is to whistle Hindi songs," he said while travelling in a second-class compartment.
"Nothing has changed in the train, people are same, their problems are same," he said.
Travelling by a local train almost after 18 years, Govinda said, this was just a beginning of his quest to 'realign' with common people.
© Copyright 2005 PTI. All rights reserved. Republication or redistribution of PTI content, including by framing or similar means, is expressly prohibited without the prior written consent.



What do you think about the story?








Read what others have to say:





Number of User Comments: 5








Sub: Govinda travels in local train

Why so much importance to stars????? What is so great if he is travelling by train????Thousands of people are travelling daily. Infact, commutors are in ...


Posted by Rajashree









Sub: Govinda travels in local trains

Instead of giving vide publicity for Govinda's travel by a local train in Mumbai (probably he must have travelled during NON-PEAK hours, that too with ...


Posted by U.Raghuveer Kini









Sub: They know how to act..

Ha... Thats a joke.. As if, otherwise he did not know how a common struggles.. He himself has enacted a lot of characters in the ...


Posted by BTV









Sub: Govinda travels in local train

Yes . He has taken the right path .meet the people head on in thir day to day like . this will help to establish ...


Posted by suneet joshi









Sub: election2004

cogrtulation for joining congress and to contest against sri RAM Naik and i wish a glorious success to him,Praise the lord for his success.


Posted by winstinton






Disclaimer