Select your team for the WC final vs Sri Lanka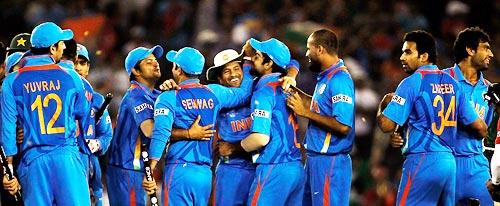 After conquering Pakistan in the semi-finals, India faces a selection dilemma ahead of Saturday's World Cup final against Sri Lanka, at the Wankhede stadium in Mumbai.
For once, it's a problem of plenty. Following the good showing of the three pacers -- Zaheer Khan, Ashish Nehra and Munaf Patel -- the selectors are beset with the problem of who among them should make way for off-spinner R Ashwin. After the Mohali win, India's captain Mahendra Singh Dhoni acknowledged that he had misread the wicket and left out Ashwin in preference of three seamers and spin ace Harbhajan Singh.
-
World Cup 2011 Coverage
As it turned out, the pace trio went on to claim two wickets each as India won by 29 runs.
So what should the think-tank do? Leave out Nehra and include Ashwin, who did well in the two matches he played preceding the high-voltage game against Pakistan? Or play three pacers and two spinners at the cost of a batsman?
These and other questions vis-à-vis team selection need to be addressed before the big game.
You can be of some help before the Indian team is selected, by picking your own playing eleven.
So what are you waiting for? Put on your thinking caps and pick the best possible Indian XI to face the Lankans.
For the record:
India and Sri Lanka have met seven times in World Cups. Sri Lanka leads the win-loss record 4-2, with one no result.
Prudential World Cup:
Sri Lanka beat India by 47 runs at Old Trafford, June 16, 1979.
Benson & Hedges World Cup:
India v Sri Lanka, no result at Mackay, February 28, 1992.
Wills World Cup:
Sri Lanka beat India by 6 wickets at Delhi, March 2, 1996.
Wills World Cup SF:
Sri Lanka beat India (default) at Kolkata, March 13, 1996.
ICC World Cup:
India beat Sri Lanka by 157 runs at Taunton, May 26, 1999.
2002-03 ICC World Cup:
India beat Sri Lanka by 183 runs at Jo'burg, Mar 10, 2003.
2006-07 ICC World Cup:
Sri Lanka beat India by 69 runs at Port of Spain, Mar 23, 2007.
Select your team: