Former India Test batsman Ashok Malhotra is visibly upset after not being considered for coach of the Indian cricket team.
"Nobody from the BCCI approached me for my CV," said Malhotra, who had taken over the reins of the Indian team from then coach John Wright during the one-day tri-series in Bangladesh in April last year when the latter had to return to New Zealand following his father's death.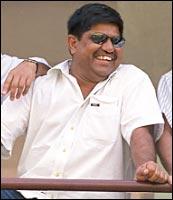 "I have coached the Indian 'A' team. I have also been coaching at the National Cricket Academy, but nobody from the BCCI seems to have noticed," he told rediff.com
"Nobody approached me, nobody approached Madan Lal. Both of us are doing coaching at some level in India, but the BCCI doesn't seem to care."
Malhotra, who played 7 Tests and 20 ODIs for India between 1982 and 1986, is not happy with some of the candidates shortlisted for the job.
"What has Jimmy (Mohinder) Amarnath done to be considered for the post of Indian coach?"
"You just cannot get up one fine day and say 'I want to be the coach of the Indian team'. You have to be qualified and must have experience," the 48 year old said.
Malhotra said though Amarnath was a great player in his playing days, but that does not automatically make him a great coach.
"He is out of coaching for 10 years, how can he suddenly take over the Indian team? He once coached Bangladesh, and now he cannot even land in Dhaka."
"Yes, you were a great player in your time. But you must understand that here you are not playing, you have to make the team play at the top level at all times, and for that you need experience. You need to go the academies and be in touch with the game."
The four candidates -- Australians Greg Chappell and Tom Moody, India's Mohinder Amarnath and West Indian Desmond Haynes -- will be interviewed by BCCI's six-member special committee in New Delhi on Thursday, May 19.
The special committee comprises BCCI President Ranbir Singh Mahendra, BCCI secretary S K Nair, former BCCI president Jagmohan Dalmiya and three former Test cricketers, Sunil Gavaskar, Srinivas Venkatraghavan and Ravi Shastri.
Another Indian -- Sandeep Patil -- pulled out of the race, after he expressed his inability to take up the job because of his current coaching assignments with the Oman team.
"I would have been happy if Sandeep had been given the job. Sandeep has done a great job as a coach in the last few years with teams like Kenya and Oman. Even with India 'A' he was very good, it is unfortunate that he is not in the running."
Chappell and Moody are the hot favourites and Malhotra feels it would be an insult to Amarnath if the BCCI has already decided that it would select a foreign coach and Amarnath's interview is just a formality.
"It would be an insult to a great player like Amarnath if the BCCI has already made up its mind to select a foreign coach. Amarnath is one of India's all-time greats and must be shown respect," said Malhotra, a member of the Indian team that won the World Championship of Cricket in Australia in February 1985.
He added that whoever is selected as the next coach must understand the players' problems and address it accordingly.
"Everybody says John Wright did a good job, but what exactly did he do? He could not rectify Sourav Ganguly's short-pitched delivery problem for five years."
"The captain is an important member of the team and Wright being a batsman himself would have served Indian cricket better had he helped Ganguly in tackling the short-pitched stuff."
"Sourav kept Wright for five years because he was a strong captain. Sourav was able to motivate the team and keep them going," he said.
Malhotra believes the best person must be selected irrespective of where he hails from, a step, which would ultimately benefit Indian cricket.