Indian middle-order batsman Yuvraj Singh on Monday launched his dream project, Yuvraj Singh Centre for Excellence, a state-of-the-art training centre for budding cricketers at Pathways School in Aravali region in Gurgaon.
The centre will provide both outdoor and indoor training facilities to budding cricketers and will also appoint highly skilled coaches to train the players. 'Yuvraj Singh Centre for Excellence' is already operational at Pathways Schools in Noida, Balliawas. 
The centres will be the National Capital Region's first ever cricketing academy that offers indoor facilities like bowling machines, swimming pool and gym. The centres will be open to the students as well as to the general public.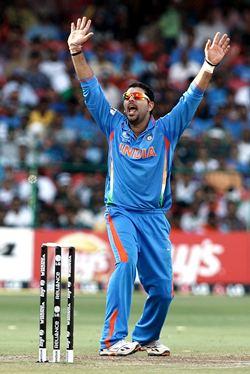 "It's a great venture and I am very excited to see my dream project finally becoming a reality with the support of Pathways Schools. Our main effort will be on imparting good coaching to the academy kids," said Yuvraj. 
"I want to see best of the kids playing for the Indian cricket team and I assure you that the academy will provide world class facilities to groom talents.
"I promise my commitment to this project and to monitor the progress of the kids myself," he added. 
Speaking on the initiative, IPL Governing Council chairman Rajiv Shukla said, "I would like to thank Yuvraj on behalf of the BCCI for coming up with such a project. Such kind of endeavour would help us turn our focus towards school
cricket.
"Identifying the talent at the grass-root level is very important. I want young cricket aspirants to focus on Yuvraj's cricketing skills through his project." 
Praveen Jain, one of the directors of Pathways Schools, said: "A few months back we had a common vision and a collective goal to create something unique at the Pathways."
The centre will bring some of the most respected and established names from the Indian and the international cricket for coaching.