He is the leading run-getter in the tournament so far with his tally reading an impressive 246 in three matches but seasoned Sri Lankan batsman Kumar Sangakkara says just being in good form is no guarantee for continued success and one must keep working hard.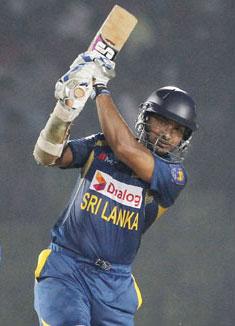 Sangakkara yet again emerged top scorer for his side with a patient 76-run knock as Sri Lanka cruised into the final of the Asia Cup following a crushing 129-run win over minnows Afghanistan.
"It was tough to bat out there. We needed a good start, so we had to spend some time to build a foundation.
"It was hard wicket, little slow and timing the ball well was important," Sangakkara, who had also hit a century against India, said after being adjudged Man of the match.
"You can't take anything for granted. You maybe in very good form but all it needs one good ball, lapse in focus or a brilliant fielding and your are out.
"You just need to enjoy your game when you are there," the left-handed batsman replied when asked about his red-hot form.
Sangakkara also had good words to say about Afghanistan players, specially the bowlers.
"The Afghan team bowled really well. The pacers hit the right areas and they used the spinners well. They exploited the pitch very well," he said.
Image: Kumar Sangakkara
Photo: Andrew Biraj