Sri Lanka spinner Muttiah Muralitharan faces a battle against time to get fit for Tuesday's World Cup semi-final against New Zealand.
Muralitharan, 38, the leading wicket taker in both Test and One-day cricket, will retire from international cricket after the tournament. He is suffering from both a bruised knee and a quadriceps injury sustained in the group stages.
The winners of Tuesday's match meet the victors of Wednesday's semi-final between India and Pakistan in Saturday's final in Mumbai.
Sri Lanka captain Kumar Sangakkara told a news conference on Monday the team management were not thinking of saving Muralitharan for a possible final.
"This is the crunch game and, if he can play tomorrow, that will be great for us. But if that doesn't work out for us we have got enough cover to make sure that we are still a solid winning side," Sangakkara said.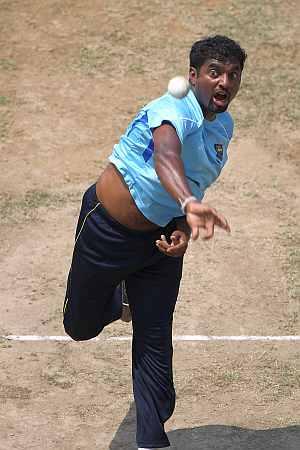 "We will have to just monitor how he goes and hope he is fit enough to play," he added.
Sri Lanka easily won their group match against New Zealand and overwhelmed England by 10 wickets in their quarter-final on Saturday.
But Sangakkara said the 1996 champions would take no chances against a New Zealand side who defeated Pakistan in the group stages and upset South Africa in their quarter-final.
"There is no room for complacency at all. There is no chance of that happening in anyone's minds because we understand the gravity of the situation and the challenge that is going to come our way.
"You have got to accept it and you have got to enjoy it and the guys have done that pretty well.
"Tomorrow is not going to be any different. You can't play too much to the crowd or too much to show off. It's a question of playing good solid cricket, doing the basics right and taking small steps first," he added.
New Zealand captain Daniel Vettori said he had been told the teams would play on the pitch, which had been already used on Saturday.
"They told us we are playing on the same one as England which is very surprising for us to play a World Cup semi-final on a used wicket.
"We would have thought it is mandatory to prepare a fresh wicket but obviously not," he added.
Photograph: Getty Images