Mahela Jayawardene, who stepped down as Sri Lanka's Twenty 20 captain after losing the World Twenty20 final against the West Indies, said his team failed to handle the "pressure situations" in the title clash.
-Sammy dedicates World T20 triumph to West Indian fans
"I think we tried very hard, but this match changed in three or four overs in the middle. In the pressure situations we couldn't control the match," Jayawardene said.
-Sammy forgives critics, sees West Indies resurgence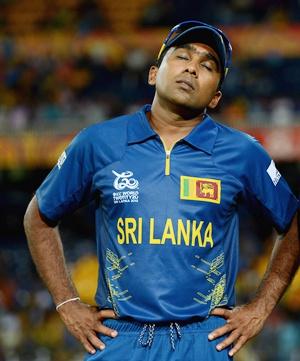 "Marlon Samuels batted really well and he took it away from us a little bit. But when we were put under pressure, we didn't react well to that. When those small mistakes add up, that's where you lose a match like a final, and that's what happened to us," he added.
-PHOTOS: Samuels guides WI to world title after 33 years
Samuels bludgeoned his way to a match-winning 78 off 56 balls and smashed Lasith Malinga for five towering sixes.
-Samuels reveals lucky neckerchief after scripting victory
Jayawardene said all the four finals they have played in the last five years have been different.
-Stats: WI, second to India to win all three ICC tournaments
"We played well right until the final. Every defeat has been different. How we approached a couple of the finals, we did not start well and we kept chasing the game and it was tough for us to get back into it.
"I thought today we started well. Marlon took a gamble after the 12th over and it paid off for him. Those were individual performances that you have to give credit to. Under pressure he put his hand up and performed and that crucial moment he controlled."
Though he stepped down from Twenty20 captaincy, Jayawardene said he will continue to lead the side in Tests and ODIs until at least the series against Australia in December.
"I think we need a young leader. It's a great opportunity for somebody to start (captaining) in the T20 format. I haven't stepped down from the other formats (Test matches and ODIs), obviously I took over till December...I will assess what I want to do after that."
He led Sri Lanka in 19 Twenty20s, winning 12 and losing 6 with one tied match.
Jayawardene said the defeat hurts even more as it came in front of a packed 35,000 home fans at the R Premadasa Stadium in Colombo.
"It hurts a lot because you want to do something special, not just personally but for the public as well. We've been playing some really good cricket, but unfortunately we haven't been able to cross that (final) hurdle."
After clinical showings in the Super Eight and semifinals, Sri Lanka wilted when it mattered most with spearhead Lasith Malinga going for 54 off hos four overs.
"After the first 12 overs, Malinga had only bowled one over. I knew that they would have to play some shots, so I gave the ball to my number one bowler to take wickets.
"But they played well in that period and Lasith couldn't bowl two good overs then, but that's cricket. I thought we'd have a chance to take wickets if Lasith bowled because Marlon didn't play Lasith well in our match in Kandy, so I had thought about that when I gave him the ball.
"If I knew the script was going to be like that, I probably wouldn't have bowled him."
The Lankan did not hold himself back from praising the winners.
"We did not bowl particularly well in that last six, seven overs. We never looked having any momentum chasing down that run rate as well, credit to them, they played good cricket in the big final which we did not."
Chasing a tricky target on a slow wicket, Sri Lanka lost opener Tillakaratne Dilshan in the second over, and that set them back.
"We wanted to attack obviously. The first six overs were crucial for us ... but Dili got out off the first ball of the second over, that kept us back.
"They bowled very well, they took the pace of the ball...we never had momentum going in the chase, we lost wickets regularly so it was tough."
Photograph: Gareth Copley/Getty Images