Pakistan batsman Umar Akmal has been fined 50 per cent of his match fee for breach of the ICC Code of Conduct during his side's 16-run defeat against Sri Lanka in the first semi-final of the World Twenty20 in Colombo.
Umar was found to have breached Article 2.2.11 of the code, a level 2 offence, which relates to "conduct contrary to the spirit of the game".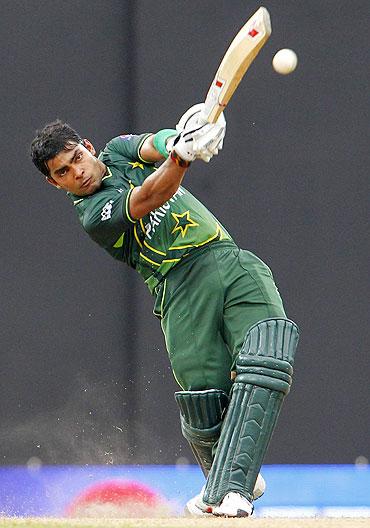 Umar pleaded guilty to the offence and accepted the proposed sanction and thus there was no need for a formal hearing.
The incident took place in the 17th over of Pakistan's innings when Umar, who was the non-striker, ignored both on-field umpires' request and went ahead to change his batting gloves in the semi-final on Thursday.
Jeff Crowe of the  Elite Panel of ICC Match Referees, while explaining his decision, said, "Respect for the umpires is integral and is something which we always emphasise and encourage.
"In this incident, Umar showed blatant disregard to both the umpires' requests, which was offensive and unacceptable from an international cricketer and contrary to our unique spirit, hence a level two charge was laid. Umar, when pleading guilty, apologised and regretted his action," an ICC statement said.
The charge was laid by on-field umpires Simon Taufel and Rod Tucker, third umpire Ian Gould as well as fourth official Steve Davis, all from the Emirates Elite Panel of ICC Umpires.
Photograph: Reuters