Is this a squad that will throw up 11 world-beaters who will go out and destroy all comers for nine consecutive matches, asks Krishnakumar Padmanabhan.
Argentina baffled fans and neutrals alike when it named its 2010 football World Cup squad. Inexplicably, many untested players -- including one who was said to be in the team only because coach Diego Maradona remembered his face from a dream where the team lifted the World Cup -- were picked, while two top defenders who won the marquee European Champions League were coolly dumped along with their best playmaker.
That team sheet gave enough and more grist to many a critic's mill.
Nobody expected any such shock from India's national cricket selectors. So what you have is a team identical to the one you saw in most newspaper and online expert columns this morning.
Only, while the experts went with nine batsmen and six bowlers, the selectors have chosen an 8:7 combination. While this still does not mean India will play five bowlers, what it immediately does is increase the chances of tweaking the four-man bowling attack. Depending on the situation, we might see India playing with two pacers and two spinners.
And be prepared to see bowling charts as long as the batting scorecard: Sehwag, Raina, Yuvraj, Yusuf Pathan and even Sachin Tendulkar in the fifth bowler's role.
Rohit Sharma was the batsman who was sacrificed for this kind of balance in the bowling department, and nobody would disagree that he would be the last name in a nine-man batting line-up.
Is this the best team the selectors could have been picked? Yes.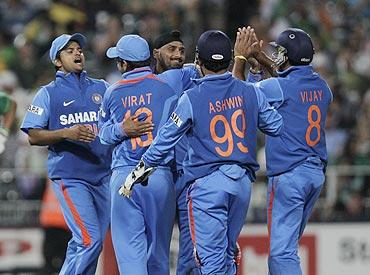 Is this a squad that will throw up 11 world-beaters who will go out and destroy all comers for nine consecutive matches? No.
Between these two points lies the story of India's World Cup team.
The batsmen first.
On recent form, among the eight batsmen, probably five -- Virat Kohli, M S Dhoni, Gautam Gambhir, Sachin Tendulkar and Virender Sehwag -- will today walk into any team. The other three -- Yuvraj Singh, Suresh Raina and Yusuf Pathan -- are not there purely on merit.
The first is there because of reputation, not recent form.
The second is there because he is sort of the 'best of the rest' that we have, and the third is there as a 'hitter' -- for times when there is a need to throw the bat around.
A few years ago, when there was a change of guard in India's middle order, Raina, Sharma and Kohli were the youngsters who were marked to take the places of some of the giants of Indian cricket.
Kohli, who was the last to be blooded, was the first and only to cement his place as Rahul Dravid's replacement at number three. Not only is he currently India's top ODI batsman, his average when India is chasing has been astonishing.
Whenever India bats first, he averages 27. In the second match innings, however, this shoots up to an improbable 60, which is way better than any of his illustrious colleagues.
Raina, who was introduced even before the old guard had retired because then coach Greg Chappell rated him highly, has been around for a while. But he hasn't made much of the time he has spent in national colours.
His record is mediocre, and recent form also does not suggest that things are going to change rapidly in the near future. And no, this is not about his inadequacy against the short ball on foreign pitches.
Of his 108 ODIs, 88 have been in the sub-continent and similar Asian pitches, and he is not even the greatest flat track bully of his time.
Sharma, meanwhile, was the highest rated of the trio. But he failed to deliver thanks to his inconsistency and lack of focus. He has only himself to blame for where he finds himself today.
So why are Yuvraj, Raina, and Pathan in this team? Because there is no one else that we know of or who has been tested under various conditions so that they can move into the team when one of the established batsmen lose form or go through an extended lean patch.
What was really needed were a few more names that the selectors could have discussed for these three places. But, while we crib at Yuvraj's selection as a matter of right, who else do we look at?
Outside of the IPL, when did we see any youngster get a chance to go up against top class opposition? That kind of depth has been lacking and it is an issue that has to be addressed in the long term.
Among the bowlers, Zaheer Khan would walk into a world XI. The selectors have chosen three deputies for him, and on Indian pitches, it really does not matter what their names are.
Which leaves us with the most interesting aspect of this team's selection: spin.
Of the three departments -- batting, pace bowling, and spin bowling -- the last was the most competitive and one where the selectors really had a quality pool to pick from -- Harbhajan Singh, R Ashwin, Piyush Chawla, Pragyan Ojha, Amit Mishra...
Most predictions this morning said India would go with two spinners: Harbhajan Singh plus one. (Again, like Yuvraj, Harbhajan is there more on the basis of his reputation than current form. But unlike Yuvraj, with whom one really can't pinpoint a better replacement, it wouldn't really hurt India were Ashwin or Chawla to be picked over him. But you know that will not happen.)
R Ashwin has been the best Indian offie in the shortest version of the game and there is no reason why he cannot replicate his grit and guile in the 50-overs format.
Though Ojha seemed to be the best left-arm spinner on offer, Chawla's batting skills might have swung it for him.
India's biggest worry, though, is not the team that has been picked, but the injuries that the players have picked in recent months.
Three of the top four in the batting order are currently carrying injuries, and there is no saying that the niggles they are carrying will not revisit them during the course of the tournament.
If that happens, do we have adequate back-up to dip into?
The team: M S Dhoni (captain), Virender Sehwag, Sachin Tendulkar, Gautam Gambhir, Virat Kohli, Suresh Raina, Yuvraj Singh, Yusuf Pathan, Harbhajan Singh, R Ashwin, Zaheer Khan, Ashish Nehra, Munaf Patel, Praveen Kumar, Piyush Chawla.
Image: The Indians celebrate after a memorable victory at the Wanderers on January 15. Will we see such scenes during the World Cup? Photograph: Reuters.