It was a plan well executed, said Sri Lanka captain Kumar Sangakkara as he heaped praise on his team-mates for their clinical display in crushing minnows Canada in their opening World Cup match in Hambantota.
"We were pretty clinical, the spinners and the fast bowlers did exactly what we wanted," Sangakkara said after his side crushed Canada by 210 runs.
He said senior batsman Mahela Jayawardene, who might quit the game after the World Cup, played a crucial role in chalking out the victory.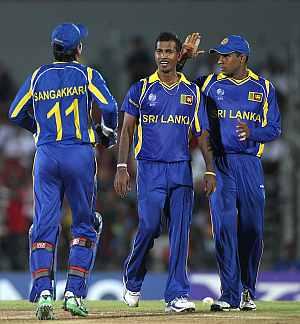 "It was set up by the openers. The real star was Jayawardene, it is very easy to bat with him. On wickets like this, it is nice to get an idea of what's going on. That's why I took a bit of time, it was good that Mahela came back to bring the momentum our way," said Sangakkara who scored an 87-ball 92.
Jayawardene said he had no idea that he broke the record for fastest century by a Sri Lankan in the World Cup with his 81-ball 100.
Jayawardene was happy that Sri Lanka began on a winning note in the tournament but said that he was a bit tired after the knock.
"Always the first game is a nerve-wrecking feeling, guys gave a good start, just needed a momentum shift in the middle. I was tired after the knock, luckily we have several days to recover. It was a good pitch, good outfield, great stadium and a great atmosphere," said Jayawardene.
Canada captain Ashish Bagai admitted his side were outplayed and said the Sangakkara-Jayawardene duo took the game away from them.
"It was always going to be a tough task. We started pretty well, kept them under five for the first 25 overs. Two world-class players took it away from us," he said.
"A bit different weather here, so there was a bit of dehydration and cramps, we have seven days to recover from this. Great facility here and great crowd," he added.
Photograph: Getty Images