It was a contentious decision to begin with.
And long after the match got over -- with India beating Pakistan by 29 runs to book a berth in the final against Sri Lanka -- MS Dhoni was still deliberating on the same.
The Team India think tank raised quite a few eyebrows by deciding to drop an impressive R Ashwin in favour of an unimpressive Ashish Nehra.
There were many who questioned the decision as Pakistan went into the game with three spinners -- the trio helping their side get back into the game after India had got off to a flier.
Even though India's decision didn't prove to be costly, thanks to some suicidal batting by the visitors, Dhoni admitted playing three seamers was a wrong decision.
"I felt the wicket got slower as the game progressed," he explained, adding, "Their spinners bowled well after we had got off to a good start.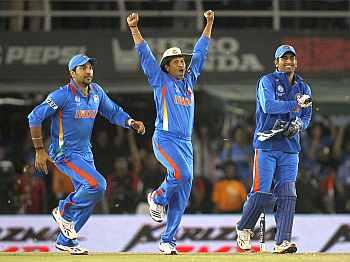 "We had to re-adjust our target in the middle overs. I thought 260 was a good score though not a safe one."
Asked what prompted the team think tank to drop Ashwin and go with three seamers, the Indian captain was categorical.
"I thought I could manouvre the three seamers, two spinners (Harbhajan and Yuvraj) and the few part-timers that I had at my disposal today," he explained, adding, "Normally the Mohali wicket doesn't assist spinners.
"Also Pakistan plays spinners very well.
"So I felt it is safer to go with a 3-2 combination. If there would have been a need, we would have asked either Raina or Sehwag to bowl."
On being goaded further, the Indian captain confessed the obvious.
"We misread the wicket, of course," he admitted. Dhoni said though his team had managed to get the better of Pakistan, they would have to get their act together if they are to give themselves a chance of winning the final.
"We have been tested in the games we have played," he admitted, adding, "Sri Lanka, on the other hand, has done exceptionally well.
"The team which avoids pressure will have the edge."
One thing is certain though. Dhoni won't commit the mistake he made at Mohali again.
Ashwin can expect a place back in the side for the final at the Wankhede.