He was a genius with the ball and England captain Andrew Strauss said Shane Warne proved as much a genius with predictions by correctly forecasting that the pulsating India-England match would end in a tie even before the players had walked out on the field.
"I think Warne is a genius to have predicted that way (a tie). What more can I say," said Strauss after the nerve-wrecking encounter in which his team was set a mammoth 339-run target by the Indians.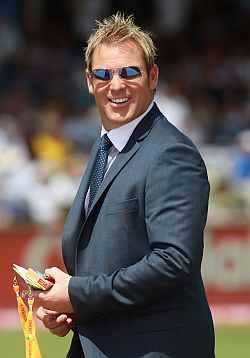 Riding on Strauss' magnificent 158, the Englishmen ended the match even-stevens to snatch a point.
But much before even the first ball was bowled, Warne had predicted on his twitter page that the match would be a tie.
"Looking forward to the game between India and England today should be a cracker. My prediction - a tie!"
Soon after the thriller, Warne posted another tweet in which he said, "Before u think there was something untoward re prediction of a tie, thought it was going to be a cracker-tie was tongue in cheek-but right."