The US Ambassador to India, Timothy J Roemer congratulated the Indian cricket team for winning the World Cup title beating Sri Lanka in the final at Wankhede stadium in Mumbai.
"On behalf of the people of the United States, I congratulate India on winning the World Cup. As a friend of India and Sri Lanka, the US was proud to watch the players of both countries put up a truly spectacular show in the true spirit of great sportsmanship," he said in a statement.
He said the people and the government of India could take pride in successfully hosting the cup, displaying great statemanship and leadership through sports diplomacy.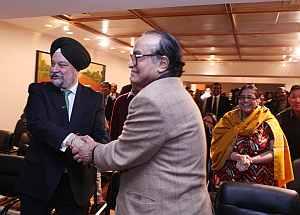 "India's great fans helped cheer the team to victory, as they brought the World Cup back to India after 28 years," he said.
Indian skipper Mahendra Singh Dhoni's sterling performance and Yuvraj Singh's accomplishments as the player of the tournament led a tremendous team effort by the Indian side, he said.
Stating that the cup is an especially gratifying highlight in Sachin Tendulkar's glorious career, he said, "On behalf of the United States, I present our congratulations to India," he said.
Meanwhile similar scenes were seen as UN Ambassador Hardeep Singh Puri congratulated Team India after their World Cup victory.
Photograph: Mohammed Jaffer-SnapsIndia