- Scorecard | Images | Live updates
The massive roar from the crowd said it all. The moment the coin rolled in Mahendra Singh Dhoni's favour, there was an instantaneous reaction.
Those at the VCA stadium in Nagpur, on Saturday, probably realized where the match would head thereafter -- an interesting fixture that would go down to the wire.
In the end, South Africa clinched a three-wicket victory. Chasing 297, after the hosts, powered by  Sachin Tendulkar's 48th ODI century (111), were dismissed in 48.4 overs, South Africa were home with two balls to spare.
India innings:
Sachin Tendulkar and Virender Sehwag only justified the captain's decision to bat first with an aggressive start that gave the home team the foundation they required while demoralizing the South African bowlers to a great extent.
While Sehwag was expectedly dominant in the opening overs, Tendulkar joined the party soon after and the duo plundered the South African attack to all corners of the ground.
The mandatory powerplay (first 10 overs) yielded the home team a whopping 87 runs. Another 41 came in the bowling powerplay that followed soon after.
After 15 overs, India was sitting pretty at 128 without loss with both Tendulkar and Sehwag having registered their respective half-centuries. And Graeme Smith had used as many as five of his bowling options, sans a success.
South Africa's first chance came in the 17th over, when Sehwag -- batting on 70 then -- edged Botha. Only Morne van Wyk couldn't hold onto it.
However, the Indian opener didn't punish the South Africans for the blemish. Instead, he gave his wicket away in attempting a cut short, Faf du Plessis rattling his stumps having cramped him for space.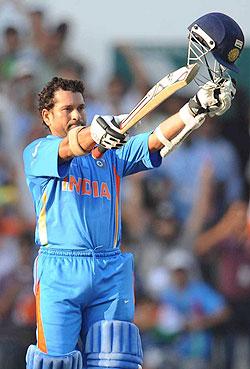 Sehwag's 66-ball 73 was inclusive of a dozen hits to the fence. It was his 37th ODI fifty, his third against South Africa. And his opening wicket stand with Tendulkar yielded 142 runs, in just 106 balls, thereby laying the foundation of the Indian innings.
The dismissal of Sehwag didn't peg India back though. Gambhir joined Tendulkar at the crease and the duo steadily put together another useful partnership for the second wicket.
In the process both the batsmen reached individual milestones.
The last time Tendulkar played in an ODI against South Africa on home soil -- at Gwalior last March -- he registered the first ever double hundred in game's shorter version, an unbeaten 200.
Saturday's innings, his 48th ODI ton and his fifth against the opposition, was equally memorable, if not more.
It was his second ton in this tournament, following his 120 against England in Bengaluru, and his sixth ton overall in the World Cup.
Meanwhile, Gambhir reached his 23rd ODI fifty, his second of this World Cup following his 51 against England in Bangalore.
More importantly, it was the left-hander first ever half-century against South Africa.
The duo put on a valuable 125-run partnership for the second wicket, in just 22 overs, before Morne Morkel got Tendulkar out.
Morkel, who had had a forgettable day till then, had the Master Blaster caught by JP Duminy at point.
Tendulkar's 101-ball 111 was inclusive of eight hits to the fence and three huge ones over it.
However, his dismissal was followed by a procession of wickets.
Three balls later, Dale Steyn had Gambhir caught by Kallis at mid-off and it took two more balls for the same bowler to strike again, on this occasion having Yusuf Pathan caught by Graeme Smith at cover even before he could open his account.
And from 267 for one, the home team slumped to 268 for four. There was more to follow.
Yuvraj Singh eased the pressure a bit with a maximum off Botha, hit straight over the bowler's head.
However, he didn't survive long either, hitting a Kallis full toss straight to Botha at long-on. An over later, Virat Kohli (1) gave a simple return catch to Robin Peterson and the latter accepted it with gratitude.
While India scored big in the first two powerplays, the batting powerplay yielded just 31 runs at the cost of four wickets.
Steyn returned to pick his third wicket, cleaning up Harbhajan Singh (3) with a well-pitched delivery. And Peterson had Zaheer Khan (0) caught by Morkel at long-on.
Ashish Nehra (0) hit straight to Smith at cover to give Steyn his fourth wicket. And the bowler cleaned up Munaf Patel (0) to complete his maiden five-wicket haul.
Even captain Dhoni (12 not out) couldn't take the Indian total past the 300-run mark. Not quite satisfactory considering the foundation their opening three batsmen had given.
The Indian batting slumped from a comfortable 267 for one in the 40th over (39.4 to be precise) to a disappointing 296 all out in a period of nine overs (48.4 overs).
And they didn't even play their full quota of overs.
South Africa innings
Chasing a formidable, if not an improbable total, South Africa made a cautious start before something predictable happened.
Zaheer Khan had the measure of their captain Graeme Smith (16) yet again, having the latter caught by Tendulkar at mid-off.
The early wicket helped in curbing the flow of runs. Jacques Kallis and Hashim Amla though slowly but surely put together a valuable partnership for the second wicket -- one that yielded South Africa 86 runs and helped lay a solid foundation to build on.
In the process, Hashim Amla registered his 13th ODI half-century. It was his fourth fifty against India apart from being his third significant contribution against the Men in Blue -- following his 64 at St George's Park (Port Elizabeth) and unbeaten 116 at SuperSport Park (Centurion).
However, soon after reaching the milestone Amla fell prey to Harbhajan Singh, nicking a ball that bounced a bit and turned a little straight to Dhoni's gloves.
His 72-ball 61 was inclusive of five hits to the fence.
Soon after Kallis reached his 81st ODI fifty, his 11th against India.
He and AB de Villiers (52) put together 46 runs for the third wicket (off just 50 balls) when some smart work by Dhoni ensured Kallis his way back to the pavilion.
In his endeavour to take a couple off Zaheer, Kallis fell short of his crease while Dhoni collected Harbhajan's throw and cleaned up the stumps.
Kallis's 89-ball 69 was inclusive of four boundaries.
In came JP Duminy (23) to join De Villiers and South Africa made a positive move by opting to take the batting powerplay in that period (37-41 overs).
And suffice to say it was a good move. De Villiers, struggling with a sore knee, asked for a runner and Amla came in to help.
Then started the South African onslaught.
Nehra's first over cost India 10, Zaheer's second cost seven and Munaf's third cost 11 -- helping the visitors cross the 200-run mark.
Then came the most expensive over of them all.
Zaheer, who had given away just 22 runs in his eight overs till that point, gave away 17 runs in his ninth over alone.
De Villiers hit him for successive boundaries, the first a reverse sweep and the second towards backward point before Duminy went the distance, hitting straight over the bowlers head.
In the final over of the powerplay, De Villiers hit a boundary off Harbhajan, over short third man, to reach his 26th ODI half century, his third against India.
However, the offie hit back with the next ball, having the batsman caught by Virat Kohli.
It was Harbhajan's 250th ODI wicket, and a special one at that.
De Villiers's stand with Duminy yielded South Africa 50 runs (off just 29 balls) while bolstering the former's aggregate in the tournament to 318 from four matches. The batting powerplay yielded 51 runs for the visitors.
Harbhajan struck again in his next over, having Duminy stumped. Dhoni fumbled twice but managed to get his act right in time to rattle the stumps.
Morne van Wyk (5) fell early but Faf du Plessis (25 not out) and Johan Botha (23) took the battle to the opposition.
Botha hit a boundary and a maximum off Munaf before a spectacular catch by substitute Suresh Raina sent him back to the pavilion. It was a spectacular cameo nonetheless, giving the South African innings the fillip it so desperately required.
Zaheer bowled a spectacular penultimate over. Only if Nehra had followed suit.
Needing 13 to win off the final over, Robin Peterson (18 not out) hit 16 runs off Nehra's first four balls and it was all over.
In the final analysis, South Africa did just enough to scrape through by three wickets -- their 40th win over India in 68 matches.
For the hosts, it was yet another case of snatching defeat from the jaws of victory. 
Some teams just never learn from their mistakes!