The Indian cricket team on Tuesday had a strenuous three-hour nets session, concentrating mostly on batting, at the M Chinnaswamy stadium in Bangalore, ahead of their vital Group-B league match against England on Sunday.
Sachin Tendulkar, who underwent an MRI scan at a private hospital last Sunday after feeling uneasiness in his knees during the Dhaka match against Bangladesh, had light weight training at the NCA gymnasium.
Ashish Nehra, who did not play in Bangladesh due to back spasm, also did some weight training.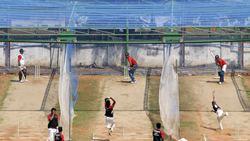 Both Tendulkar and Nehra did not bat or bowl on Tuesday, though the former was seen coming out to the net session area from the gym twice in between his weight training sessions.
Opening batsman Virender Sehwag, pacer S Sreeshant and spinner Ravichandran Ashwin also decided to stay back and did not join the team either at the gym or the net sessions.
Yuvraj Singh also did not bat but bowled for about 20 minutes before doing some stretching exercises.
Gautam Gambhir, Virat Kohli and skipper Mahendra Singh Dhoni batted for more than about 30 minutes each at the nets, while Zaheer Khan and Harbhajan Singh, who had a bit of bowling at the nets, also sharpened their batting skills by toiling at the nets longer than the regular batsmen.
Coach Gary Kristen was seen throwing the ball from a distance to both Zaheer and Harbhajan. At times, Kristen walked up to the batsmen to advise them on certain batting techniques.
Eleven members of the squad arrived at the stadium at 2.20 pm and practised till 6.00 pm.
The Indian team will be practicing from 11 am on Wednesday at the smaller NCA ground.