With two major cricketing events -- the World Cup and the Indian Premier League -- back to back this year, the retail fan cricket gear market is on a roll.
According to retailers such as Reebok and Big Bazaar, sales of cricket fan gear such as T-shirts, track pants, jerseys, head bands, wrist bands, towels, etc are growing with every passing day. Big Bazaar, which markets International Cricket Council-approved apparel designs, is looking at a million items of sales by the end of the season.  The company is offering apparel for cricket fans from Rs 199 to Rs 399.
"We have been selling the merchandise from our Big Bazaar as well as Central and Planet Stores and we have had very good sales. The sales are growing with every passing week as the tournament gathers momentum. Once the event (World Cup) begins on February 19, we expect sales growth to accelerate. And, we expect all of one million pieces to be sold out, with no inventory left behind," says Sandeep Agrawal, joint chief executive officer at Big Bazaar.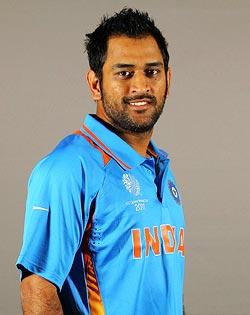 Similarly, according to a Reebok official source, the brand's cricket fan gear,  priced between Rs 599 and Rs 999, have been selling very well. This, in spite the fact that yarn prices, which rose almost one and a half times in the past year, have pushed the prices up for apparel.
"The mood has been good among fans this year. In spite of a 20-30 per cent rise in prices of apparel, the products are still in demand, which can only see a way upward in the coming days," says Sahil Batra of Ludhiana-based Parasrama Textiles Mills Ltd that supplies fabric for such fan gear.
With new sponsor contracts being signed by IPL teams, more orders for cricket apparel are expected by manufacturers.
"While IPL has been bringing in business for us since the past two-three years, it is also an event we look forward to. However, unlike the World Cup where fans from almost all parts of the country demand the Indian team's cricket gear, demand for IPL merchandise come from specific regions associated with the teams," says Amit Chaudhary, executive director of TG Apparels, which manufactures cricket merchandise.
Batra says a build in inventory over the past couple of years in IPL fan merchandise may result in lesser orders this year.
"Sponsors had ordered lakhs of pieces in 2009 but with the IPL season being shifted to South Africa, it didn't result in much retail sales. Since then, there has been inventory piling up which needs to be cleared out,"  he said.
As of now, retailers are hoping the best for the Indian cricket team, the success of which can only drive their business this season.