Despite the unwillingness of Pakistan Cricket Board chairman Ijaz Butt, Shahid Afridi was named captain for the upcoming cricket World Cup.
The PCB chief wanted Test captain Misbah-ul Haq to take over in both formats of the game, but he could not bear pressure from seniors like Umar Gul, Shoaib Akhtar and all-rounder Abdul Razzaq who supported Afridi's candidature.
The PCB had announced Pakistan's 15-man squad for the showpiece event last month but did not name a skipper then.
Afridi and Misbah were the two contenders, but finally Afridi got the nod following the team's good showing in New Zealand.
Almost all former players were against the decision of not announcing the captain in time, saying it would harm the team unity.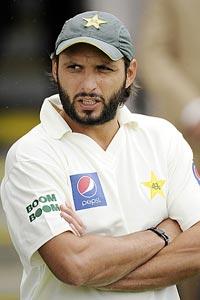 Afridi had earlier said that captaincy was not an issue for him; whether he is retained or removed.
"It doesn't make a difference whether Misbah leads the side or I lead the side, because we both are playing for our country.".
Some considered Misbah a better choice to lead the side as they believed Afridi is too temperamental to be given the responsibility of leading in a World Cup.
But opinions tilted towards Afridi during the six-match ODI series in New Zealand, in which Pakistan have taken an unassailable 3-1 lead after five games.
Former Pakistani captain Shoaib Malik also backed Afridi's appointment.
"Since Afridi has been leading the team for the last year, it makes no sense to change him now; changing captains frequently has already damaged the team in the past." he said.
Former Pakistan captain and member of the 1992 World Cup winning squad Wasim Akram also felt?that Afridi was a better option than Misbah.
"I would go for Afridi any day. Misbah is performing well, but he's not a magician. Afridi has been the captain for a reasonable period of time. Last year, he was the highest wicket-taker and also one of the top run-getters for Pakistan. In my opinion, Afridi should be named captain. I don't know what the PCB is doing," the former pacer said.
After Pakistani won the ODI series against New Zealand former captain and wicketkeeper batsman Moin Khan said: "Afridi deserves to get the World Cup captaincy as a reward" because it was Pakistan's first one-day series win in two years.