It's not a match. It's war!
At least, the security arrangements around the PCA stadium in Mohali, ahead of the much-awaited India-Pakistan semi-final, seem to suggest the same.
Days before the highly anticipated game the stadium resembles a military outpost, a garrison.
The area has already been declared a no-fly zone and anti-aircraft guns are placed at strategic locations to thwart any untoward movement in the air.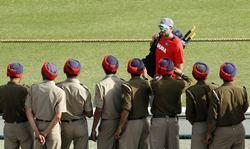 With dignitaries like the prime ministers of both the countries involved, Dr Manmohan Singh and Yousuf Raza Gilani, Sonia Gandhi, Rahul Gandhi and business barons (Mukesh Ambani, Vijay Mallya et al) expected to be in attendance, no stone is being left unturned to ensure the imperative safety measures.
About 2, 200 security personnel have already been deployed in or around the venue with more on the anvil.
Besides, the National Security Guard (NSG) and Special Protection Group (SPG) teams landed on Sunday to take stock of the measures in place.
Police sources told rediff.com that all efforts have been made to ensure the security is water-tight with no room for any error whatsoever.
Moreover, it is learnt that on match day the stadium will be completely cordoned off, and no vehicle – save those of the government and security forces -- will be allowed to enter within 1.5 kms off the stadium.
The organizers seem to have taken a clue or two from their counterparts in the Commonwealth Games in New Delhil ate last year.
With intelligence agencies issuing a terror alert, it won't be surprising if the security is further beefed up in the next two days. 
Photograph: Reuters