India's World Cup preparations appear to have suffered a major setback with pacer Praveen Kumar's participation looking doubtful for the upcoming tournament, beginning in Dhaka on February 19, because of a recurring injury.
Pacer S Sreesanth looks likely to replace him after he was called to the National Cricket Academy in Bangalore to verify his fitness.
The Kerala speedster went through his fitness test in the afternoon around 2pm local time, a few hours after Kumar's test.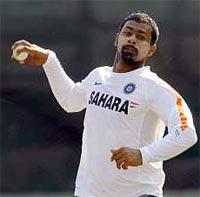 "He was basically asked to undergo a fitness test to prove whether is fit to play and bowl. Infact, that was just a formality as Sreesanth has been training hard at the NCA for the last three-four days," a source told Rediff.com.
According to sources, the Uttar Pradesh pacer is likely to miss the tournament as he hasn't fully recovered from the elbow injury he sustained in South Africa last month.
Praveen, who sustained the injury during the ODI series in South Africa, went to UK for treatment but it seems the injury is more serious than diagnosed earlier.
Sachin Tendulkar, Gautam Gambhir and Virender Sehwag are also making a comeback to the Indian squad after suffering injuries in South Africa.