Shahid Afridi's men should use "music therapy" to calm their nerves before Pakistan face India in Wednesday's high-pressure World Cup semi-final, former captain Javed Miandad suggested.
Cricket fever has gripped the sub-continent for the showdown between the two neighbours, who have shared an intense rivalry since their 1947 independence.
- Dhoni plays down hype before semi-final
With only one topic dominating headlines since the two countries set up the last-four date in Mohali, escaping the hype has been mission impossible for the players but Miandad said there was a way for Afridi's men to block out all the outside distractions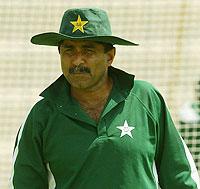 "It wouldn't be a bad idea for the players to relax and soothe themselves by listening to music or humming the tunes of their favourite songs before or during the match," Miandad told Reuters.
"When the pressures are great and stakes are high, players can't help from being affected by the environment. In our days we used music therapy to great effect in high pressure matches. Because when you are relaxed you are focused 100 percent on cricket."
The winner of the match will face Sri Lanka in Saturday's final in Mumbai.