Former Pakistan captain Imran Khan says lack of options in bowling make India a vulnerable side and it could hurt the team's prospects in the ongoing World Cup
That India have problems in bowling are clear after the team's first two matches when they let both Bangladesh and England off the hook after setting huge scores.
"India's bowling has been exposed against Bangladesh and I think their biggest problem now is to find a potent bowling combination to carry them through to the final," Imran said.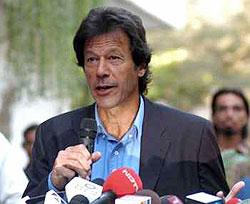 He pointed out that the first few matches indicated that even scores of 300 plus could not be defended without a potent attack.
"The way Ireland beat England highlights the need to play at least five regular bowlers and India have struggled to find the right combination.
"The conditions in India, Sri Lanka and Bangladesh are such that it is always going to be hard- work for bowlers, especially those who don't have pace or can't bring variation into their attack," he said.
Imran said India's greatest strength lies in having a skipper like Mahendra Singh Dhoni.
"Dhoni himself is a fearless cricketer but he also has to be aggressive while using his bowlers," he said.
Lasith Malinga's scintillating hat-trick against Kenya didn't escape the legend's eyes.
"Bowlers like Malinga, with such an unusual action, Shoaib Akhtar or Brett Lee will always be dangerous despite the flat surfaces because they are pure pace bowlers."
Imran said, following Ireland's stunning win over England, chances of upsets in group B have increased.
"I don't have enough praise for the way Kevin O'Brian batted for his century. He played some of the best cricket shots I have seen in my career. The Irish are a fighting lot and I think they will cause some more upsets."
Another former great Wasim Akram felt making predictions about who would win the title has become a difficult job after the first ten days of the tournament.
"One thing is becoming clear that teams need to have potent attack."
"Teams who are insisting on playing part-time bowlers will face problems as the tournament progresses. Australia, Pakistan and Sri Lanka to my mind emerge as strong teams because they have lots of variety and depth in their attacks. But Pakistan need to play an extra bowler against stronger teams," Akram said.