In the lone match he played at the ongoing World Cup, he conceded a whopping 53 off his five overs, and failed to fill the wickets column in his bowling figures.
The match was India's opener (the tournament opener as well) against Bangladesh in Mirpur.
In the following month-and-a-half, Team India played seven more matches and booked a place in the final, without the above-mentioned bowler featuring in any of those wins.
- Important we play to our potential, says Dhoni
However, on Friday, S Sreesanth was busy preparing to play in his second World Cup match, even if it happens to be the final!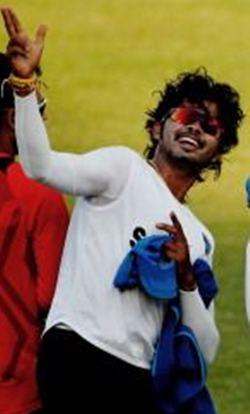 With Ashish Nehra, India's third seam option in the semi-final against Pakistan on Wednesday, sustaining multiple fractures in the said game and ruled out of the final -- and Dhoni's preference for seamers overs spinners -- Sreesanth is almost certain to get the nod ahead of Ashwin.
- What to look out for in India-SL final
Even if Dhoni refrained from admitting the same on the eve of the decider, he did drop enough hints that pointed towards Sree's inclusion in the team.
"If you look at the Mumbai track, there is a bit of pace and bounce on the wicket for the seamers initially," explained the captain, adding, "And if there's a bit of reverse swing, a third seamer can have an impact on the game.
"Also, what that third seamer does is, if the three seamers are bowling well, I am able to manoeuvre more with the bowlers, as to which bowler I need to bowl when."
Dhoni proceeded to explain his point.
"With spinners, say you have three spinners and a few part-timers (and two seamers), you can't manoeuvre as much. And if one of the seamers has an off day, it becomes all the more difficult."
And when the captain lauded Ashwin for his contribution, it became even more obvious.
"Still, not to forget whatever opportunity Ashwin has got, irrespective of where he has played, he has done really well," explained Dhoni, adding, "So we have confidence in him.
"But we have not clearly thought as to whether we need to go with three seamers or two seamers and an extra spinner."
Having said that, Dhoni also admitted that he would have loved to give Sreesanth more games before the final.
"It is unfortunate that we haven't been able to give him another chance in the tournament. In the only game he played, I thought he didn't bowl that badly.
"Thereafter, we gave chances to other players, which was perhaps needed. But I would have loved to give him another chance.
"But after the league phase it was all about having the best eleven, a team that suits to the conditions."
Asked if giving the bowler a chance to play in the final, having not played for a long time, is a bit too much, Dhoni went on the defensive.
"You don't need to think of the match as a final, but as a match where you see the wicket and play the best eleven," justified the captain.
 "Sree has done well for us in most of the games that he has played in.
"He is definitely a bowler who can swing the ball and get you early wickets. So it will be exciting if he plays."  
The 28-year-old bowler has a reputation of being hyper, and the captain admitted he won't be able to control the Kerala player.
"The only person who can control Sreesanth is Sreesanth himself," said Dhoni, adding, "He is beyond my control.
"He is that kind of a player who gets excited when it comes to big games."
Having said that, Dhoni expressed confidence the bowler will be at his best.
"If he is playing, he will be in a good frame of mind," he concluded.