Team India's legion of fans may be depressed after the defeat to South Africa in Saturday's World Cup match in Nagpur. But they need not worry too much. Some eminent astrologers of the country have predicted that the chances of the team winning the coveted 50-overs Cup are good.
"Chances of a World Cup win are very high for Team India this time," predicts Gayatri Devi Vasudev, vice-president of Indian Council of Astrological Sciences (ICAS).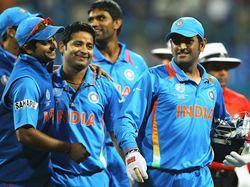 Vasudev, a Bangalore-based astrologer and editor of Modern Astrology, who along with dozens of astrologers have gathered in Patna for a two-day ICAS meet, told rediff.com that it is a very favourable period for the team to emerge triumphant in the ongoing tournament.
"Mercury, Jupiter, Sun and Mars are in the tenth house of Team India; a good thing for it," she said.
Another astrologer, Ram Naresh Tripathi, also predicted that the Indian team is in a very good position till March 28.
"Only after March 28 caution is needed for Team India," Tripathi, an Allahabad-based astrologer cautioned.
He said India captain Mahendra Singh Dhoni is of Kanya lagna, with Mars in a dominating position. This is also the planet of cricket.
Going by the horoscopes of other players, indications of the team's overall position is good, they say.
Suhas Dongre, chairman of the Pune chapter of the ICAS, predicted that Team India will reach the final.
"Team India will encounter Australia in the final of the World Cup. It will be a tough, funny and very unpredictable match for the hosts. But my studies tell me that Australia will clinch the title," was Dongre forecast.