Former Pakistan captains Imran Khan and Javed Miandad on Tuesday warned the national team players not to underestimate the West Indies in the quarter-final of the cricket World Cup to be played in Mirpur on Wednesday.
Pakistan play the West Indies in the first quarter-final with the odds stacked in favour of Shahid Afridi's men.
But the two former captains said no team could be underestimated in the tournament.
"The Pakistan team has been playing well but I still feel they need to play an extra bowler. So they have to be careful in the quarter-final because the knockout stage is the real World Cup test for all teams," Imran said.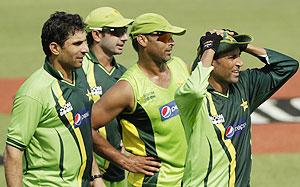 Imran said that so far the Pakistani players had shown great character to bounce back from the defeat to New Zealand.
"It is pleasing to see the younger players pushing forward but I still believe that the team's two most senior players -- Younis Khan and Misbah-ul-Haq -- must bat higher. On paper, we have a more balanced team compared to West Indies but they also have a couple of match winners and it would be wise not to underestimate them," he said.
Miandad, who was also a key member of the title-wining 1992 team, said that Pakistani players should not be worried even if they have to bat second in the quarter-final.
"The management must prepare the players mentally to be ready for any situation. We must not depend solely on winning the toss. Even if we have to chase under lights we must not panic," he said.
Miandad said that he had no doubt that Pakistan were a more balanced side than the West Indies and had more depth in bowling.
"But cricket is a funny game and on a particular day the form books count for nothing. West Indies have some very explosive players but we must attack them with pace and spin and the fielding has to be top standard. It would be a folly to take the West Indians lightly," he said.
Another former captain Aamir Sohail said that Pakistan held the edge over West Indies because their players were more familiar to the conditions of the subcontinent and particularly in Bangladesh.
"Both teams start off as favourites but we have the edge as our players are comfortable playing in such conditions. I would think that our players will need to adjust and play according to the situation. They will have to absorb the pressure."
Former wicketkeeper-batsman Moin Khan said that Bangladesh had always proved to be a happy hunting ground for Pakistan cricket but the World Cup quarter-final would be a big test for the players.
"Our team should win the quarter-final but it is a do or die encounter and I would like to see Saeed Ajmal playing in the match since he is a wicket-taker and good against the left handers," Moin said.