Pakistan team manager Intikhab Alam has his doubts over the fitness of speedster Shoib Akhtar but believes that even a half-fit Akhtar would be a handful for opponents during the World Cup.
The former skipper, under whose guidance Pakistan triumphed in the 1992 World Cup, said, "Shoaib is not 100 per cent fit, but even a half-fit Akhtar can lift Pakistan to glory."
The former leg-spinner, though, stressed that the mercurial bowler needs to be utilised properly.
"He needs to be utilised carefully to get the best out of him. A lot could depend on the weather, heat, humidity as to how Shoaib is utilised by the skipper," Alam said.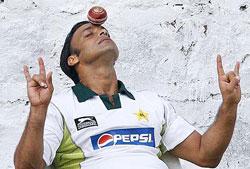 He added, "At the moment, in Bangladesh, the weather is very nice, it's not too warm, but we'll have to see what the weather is like in Sri Lanka in the group stages."
Talking about Pakistan's spin options in the quadrennial event, Alam reiterated that despite having four spinners in the side Pakistan would not fall into the trap of over-relying on the slow bowlers.
"It's all about the conditions that we encounter. We'll take it match by match. In New Zealand Ajmal and Rehman didn't get much of a look-in, but that was largely due to the conditions that we encountered.
"I expect that only two spinners will start in most matches. We are very fortunate that we have the versatile Mohammad Hafeez who can open the batting, as well as bowl his quota of overs, but I would say that Rehman and Afridi are the first choice spinners," the manager insisted.
Alam added that the competition among spinners augurs well for Pakistan cricket.
"It's good that there is competition in the side and nobody's place is guaranteed in the starting eleven," he said.
Pakistan, who are scheduled to play their group matches in Sri Lanka, are currently in Bangladesh, the co-hosts of the tournament, for their warm-up ties. The former cricketer believed that adjusting to the conditions would not be an issue.
"That's the way it is, we have to accept that and I don't think it will make much difference in the long term," Alam expressed.
Alam also laid significance to the practice matches and said, "Both matches are extremely important with regards to the build-up and planning and we will be going all out to win them."
Pakistan on Tuesday beat Bangladesh by 89 runs in their first warm-up game.