It's been a rocky ride for Team India thus far in the World Cup.
Firm favourites going into the event, the Men in Blue did start with a comprehensive win over Bangladesh. However, to put it bluntly, they haven't been very convincing in the subsequent three matches -- against England, Ireland and the Netherlands respectively.
Nonetheless, having secured seven points from four games, they are already assured of a berth in the knock-out stage.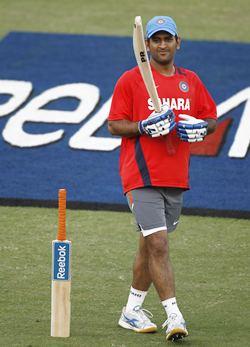 And that stands the team in good stead, if captain MS Dhoni is to be believed.
"We have already qualified for the next phase of the tournament," he said, ahead of his team's fifth group fixture against South Africa on Saturday.
"We have the liberty of having two extra games at this stage," continued Dhoni, adding, "So playing against two big teams next will give a bit of momentum to our side.
India's captain though admitted that his opening batsmen need to produce more runs.
"We rely on the momentum when it comes to batting. And we have seen our lower order can cash in on the platform provided.
"So, in the next two group games, I hope our openers contribute a bit more than they have been doing recently," he said.
On the bowling front, Dhoni agreed that the possibility of an additional spinner cannot be entirely ruled out.
"Playing an extra seamer is definitely a thought at this stage," he admitted. "This is a better track, in the sense that there is a bit more bounce.
"Maybe there will be something extra for the bowlers with the new ball, even if it is not any extraordinary swing and movement thereafter.
"We will have a look at the wicket and decide out final eleven accordingly."
The captain reiterated that his team isn't under any pressure even if the tournament is inching towards its business end.
"I think what is important is to think of the process, not think of the expectations. We all know what is expected out of us and how we can perform to our potential.
"What I am thinking about now is definitely regarding preparing for the games and achieving your targets. It is a platform where you need to address the areas where you need to improve, especially before a big game," he said.