A tent covering the pitch for the World Cup Group B game between India and the West Indies! That was a surprising sight at the M A Chidambaram stadium on Saturday morning.
While both the abovementioned teams are certain of a last eight berth -- taking into account Bangladesh's collapse against South Africa at Dhaka in Saturday morning's match -- the Caribbeans, from the confidence point of view, certainly want to win Sunday's last league match.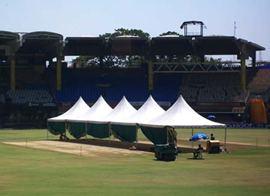 Darren Sammy, the West Indies captain, was amused on seeing a tent of five canopies over the pitch.
-Will Windies overpower Team India this time too?
"I have never before seen a pitch covered by a tent," he remarked, with a wry smile on his face.
South zone curator P A Viswanathan said the idea was to trap some moisture in the track.
"It's baking hot in Chennai and we wanted to protect the pitch from the harsh sun," he told Reuters.
"The canopies would keep the surface cooler and both teams would like the conditions tomorrow."
India captain Mahendra Singh Dhoni found the canopies intriguing and postponed his pitch inspection.
"I have not seen the wicket because there is a big tent over the wicket, which is protecting it from the sun," Dhoni said.
"It basically means it would look a lot different before the start of the game from what it is looking right now. I think that will be the ideal time to study the wicket.
"From whatever we have seen in all the games so far, it has assisted the spinners, has decent bounce for the fast bowlers at the same time and they are able to get reverse swing. We will see how it looks (on Sunday)."
The West Indies have not beaten a top cricketing nation since June 2009, when it beat India by eight wickets at Sabina Park, Kingston (Jamaica). What might just work to their advantage is the fact that they have already played a match at the venue - against England on Thursday.
Even though they lost that game, as also the fact that the game on Sunday will be played on another pitch, the very experience of having played on the ground might just add to the their confidence ahead of the tie.