Former India [ Images ] captain Bishen Singh Bedi [ Images ] is convinced that, come what may, India will beat Sri Lanka [ Images ] in the World Cup final at the Wankhede in Mumbai [ Images ] on Saturday.
"I'm confident that India will the World Cup," Bedi told rediff.com.
Bedi, however, was disappointed with Tendulkar's semi-final innings against Pakistan on Wednesday.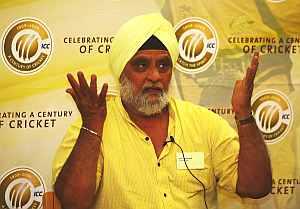 "Though we managed to win the crucial match against Pakistan, I must add Sachin Tendulkar's [ Images ] 85 did not do justice to his status, as far as technique is concerned.
- What to look out for in India-SL final
"He survived four chances -- the fielders dropped virtual sitters to help him reach 85 -- before he was caught by Pakistan captain Shahid Afridi [ Images ]. I hope he will make amends and reach his 100th hundred in Mumbai with a flawless innings," the former spin ace said.
Bedi said that he was surpirsed when Ashish Nehra [ Images ] was included in the team for the match against Pakistan in place of R Ashwin.
"I must, however, admit that Nehra bowled superbly. He has an injured finger, which means he would be out for the final. Ashwin would, in all probability, take his place, unless Dhoni [ Images ] decides to take another fast bowler," he said.
Bedi felt Muttiah Muralitharan [ Images ] will not pose a threat to the Indians, "considering that he is not hundred per cent fit". However, he believes that Indians "will have to come up with an all-round display to send Lankans home empty-handed".
Photograph: Getty Images