Former India captain Bishen Singh Bedi is convinced that, come what may, India will beat Sri Lanka in the World Cup final at the Wankhede in Mumbai on Saturday.
"I'm confident that India will the World Cup," Bedi told rediff.com.
Bedi, however, was disappointed with Tendulkar's semi-final innings against Pakistan on Wednesday.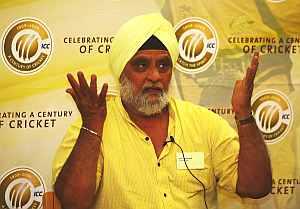 "Though we managed to win the crucial match against Pakistan, I must add Sachin Tendulkar's 85 did not do justice to his status, as far as technique is concerned.
- What to look out for in India-SL final
"He survived four chances -- the fielders dropped virtual sitters to help him reach 85 -- before he was caught by Pakistan captain Shahid Afridi. I hope he will make amends and reach his 100th hundred in Mumbai with a flawless innings," the former spin ace said.
Bedi said that he was surpirsed when Ashish Nehra was included in the team for the match against Pakistan in place of R Ashwin.
"I must, however, admit that Nehra bowled superbly. He has an injured finger, which means he would be out for the final. Ashwin would, in all probability, take his place, unless Dhoni decides to take another fast bowler," he said.
Bedi felt Muttiah Muralitharan will not pose a threat to the Indians, "considering that he is not hundred per cent fit". However, he believes that Indians "will have to come up with an all-round display to send Lankans home empty-handed".
Photograph: Getty Images