Bangladesh tail-enders Shafiul Islam and Mahmudullah became the toast of the nation on Friday after steering their team to a stunning two-wicket World Cup win over England.
The co-hosts looked to be probably heading out of the competition with England progressing to the last eight when they slumped to 169-8 chasing 226 to win on an unpredictable wicket with the ball reverse swinging.
But Shafiul decided attack was the best way ahead and he blasted 24 in as many balls to carry his team over the line for the unlikeliest of wins as the home crowd went wild.
Earlier, Jonathan Trott top-scored for England with 67 backed up by Eoin Morgan (63) to help their side recover from a poor start to reach 225 all out in the Group B clash.
The result was an amazing turnaround for the home side who were skittled for just 58 against West Indies a week ago in Dhaka before losing by nine wickets.
"You never know with cricket. It's unbelievable," said vice-captain Tamim Iqbal.
"We knew that he (Shafiul) could bat but not like that," he added.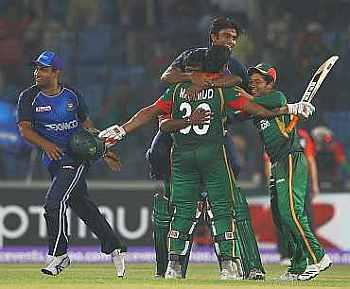 Mahmudullah (21) and Shafiul added 58 runs in their unbroken ninth wicket to take their team to victory with an over left.
Bangladesh had been apparently cruising towards victory thanks to solid innings from Imrul Kayes (60) and Tamim (38).
But they suddenly lost momentum with the victory in sight as five wickets tumbled for 14 runs, which prompted hundreds of disgruntled fans to file out of the stadium.
Unfortunately for those spectators, they missed out on witnessing one of Bangladesh's greatest World Cup victories as Shafiul and Mahmudullah rescued their country with their sparkling partnership.
"At 169-8 I thought we'd lost the game but Mahmudullah and Shaiful showed how tough they are and they batted exceptionally well and it paid off," said a beaming Shakib, whose house was stoned by angry fans following the defeat by West Indies.
"When they hit the last ball then I believed it but before then I never believed they could win us the game.
"It means a hell of a lot to the whole country as we are all very emotional about cricket," he added.
Ajmal Shahzad was comfortably the best of a very mixed England attack, taking 3-43 from his 10 overs.
England skipper Andrew Strauss looked stunned -- and bemused -- after losing their second Group B thriller against supposedly weaker opposition. They were also beaten by Ireland.
"We wanted to win this game and win it well. We struggled a little bit with the bat. I thought 225 was a competitive total. We needed to bowl and field well but didn't do that as well as we'd have liked," said Strauss, whose two victories in the tournament have been against the Netherlands and South Africa.
"We got ourselves in a great position to win the game but in the end we couldn't take those two final wickets. We're bitterly disappointed.
"This is a real missed opportunity for us but you can't dwell on it too long, you've got to look forward," he added.
England now need to win their final match against the West Indies (March 17) to be sure of a quarter-final place while Bangladesh next face Netherlands on Monday and then South Africa on March 19. Wins would take them through.