Advertisement

  

Advertisement

BCCI adds WI series paving way for Tendulkar to play 200th Test at home
September 01, 2013 18:30 IST


Sachin Tendulkar is set to play his landmark 200th Test match before his home fans with the BCCI making a surprise announcement on Sunday that the West Indies team has been invited for two Tests and five ODIs in November next.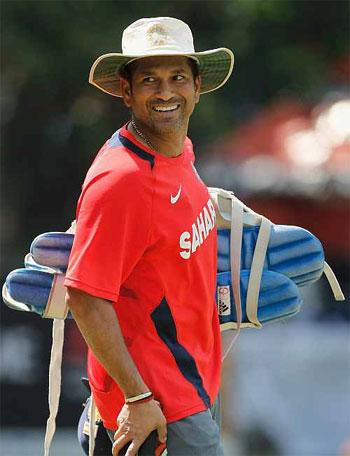 Kolkata and Mumbai are likely to be the venues for the Tests against the West Indies.
The iconic batsman, who has already played a record 198 Tests, was earlier expected to become the first player in the history of the game to figure in 200 Tests in South Africa where the Indian team is scheduled to tour in December.
The sudden announcement about a short tour by West Indies has given rise to speculation that Tendulkar, who has struggled in Test of late, may play his final Test at his home ground in Mumbai and then announce his retirement after a 24-year international career during which he has become the highest run getter (15837 runs at an average of 53.86) with a record 51 centuries.
He also has the most centuries in ODIs with 49 tons.
After its Working Committee meeting in Kolkata, the BCCI also announced that India will tour New Zealand for two Tests and five ODIs in January/February 2014 and then head to England for five Tests/five ODIs/one T20 International from July to September 2014.
However, there was no mention of the tour of South Africa which was already announced two months ago.
This also generated speculation over whether there were any hiccups with regard to the South African tour given the fact that India has sought changes in the schedule worked out by Cricket South Africa and BCCI's thinly-disguised dislike for their CEO Haroon Lorgat.
The BCCI's dislike for Lorgat dates back to his days as the ICC Chief Executive when he was on a collision course with the Indian Board on a number of issues.
© Copyright 2009 PTI. All rights reserved. Republication or redistribution of PTI content, including by framing or similar means, is expressly prohibited without the prior written consent.