The second and final Test has been overshadowed big time by Sachin Tendulkar's retirement, and it comes as no surprise that even the West Indies' bowlers have bitten the bug.
While the visitors are keen on winning the match and leveling the series at 1-1, their bowlers are secretly having a competition among themselves to outdo each other and etch their name in history.
One of them has the opportunity to enter the record books as the last bowler to take Tendulkar's wicket in international cricket, during the second Test in Mumbai, from November 14 to 18.
- Farewell Sachin... write a postcard to the batting icon
"From the moment we knew his last Test would be in Mumbai all the bowlers in our team are geared up to get his wicket. That could be the last stroke he plays, your name could go down in history books. Even if it is the 40th over, when Sachin walks in to bat. Tino Best would come in hard and look to get his wicket," West Indies captain Darren Sammy said on the eve of the Mumbai Test.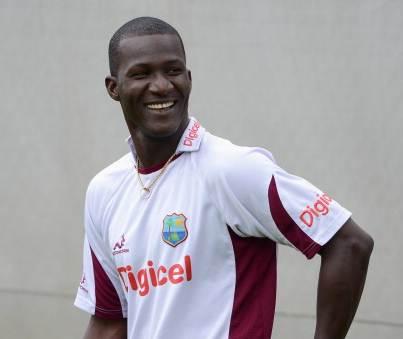 But Sammy, though, is quick to add that all the focus is not on Tendulkar and the team is looking to come up with a better showing than it did in the first Test in Kolkata, when the West Indies lost by an innings and 51 runs, within three days.
"I would not say it is the off-field celebrations of Sachin that is causing us to lose. It is more about not applying ourselves. Both teams came to the series playing One-Day cricket but India adjusted much quicker than us. We have not been patient enough. Once we were put under pressure, we did not respond quit well," he said.
The West Indies will have their veteran batsman Shivnarine Chanderpaul complete the landmark of 150 Tests in Mumbai. Sammy is hoping that his feat will inspire his team mates to come up with an improved showing.
"In tomorrow's match, we have our most experience player, Shiv, playing his 150th Test match; it is a great milestone for him and for us as West Indians. Obviously, it will be overshadowed by Sachin. We have to work hard for Shiv and we have to bat at least 120 overs in the first innings. We have not been able to do that. As a team we did need to bat much better," he said.
"What Shiv has done for last 20 years… he is like Sachin when it comes to batting. He has been the same ever since I have known him. He practices the way he is going to play in a match. I hope he scores 150 in his 150th match, but I don't like to say the same for Sachin that he scores a double hundred," the Windies skipper added.
The West Indies are banking on Chris Gayle to come good with the bat and give them an explosive start in the match. The dashing batsman failed in both innings of the Kolkata Test, scoring 18 and 33, and was dismissed on both occasions by pacer Bhuvneshwar Kumar.
"I am not worried about Chris. He is also not worried a bit. He can come good on any given day, like he has done; hopefully he will get a good start in this Test match. We don't rely on one person; we all fight for each other together," said Sammy.
The last time India and West Indies faced-off in Mumbai, the match ended in a thrilling draw off the last ball of the game as both teams finished on the same score, on the fifth and final day, in November 2011.
Sammy is hoping his team can produce another good performance for the next five days. "Hopefully we will play five full days of the game and get all the tricks and exploit; the batsmen will enjoy good batting conditions as well.
"It is going to be tough; it is always difficult to play India in India. These things are challenges and we have to rise to the occasion and give Sachin a good send off."
Image: Darren Sammy