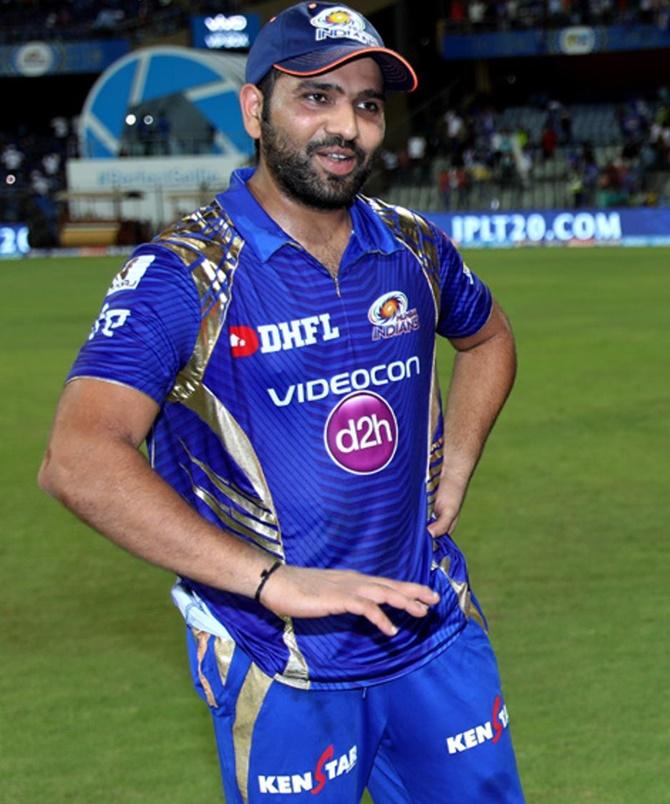 IMAGE: Mumbai Indians skipper Rohit Sharma. Photograph: BCCI
Mumbai Indians skipper Rohit Sharma, on Sunday, hinted that he might open the innings at some stage in the ongoing Indian Premier League but that will totally depend on the need of the team.
IPL PHOTOS: Rana blasts half-century as Mumbai ease past Gujarat
Rohit regularly opens for India in ODIs but has batted at No 4 position in this IPL season.
"I would love to open, but you have to see certain things from the team's perspective, find the right balance. (I) batting at 4 or 3 gives the team right balance," said Rohit, who cracked an unbeaten 29-ball 40 as MI defeated Gujarat Lions' six wickets with three balls to spare.
"Last year we felt we wanted someone to bat till the end which was not happening and we were not able to finish the games. I am open to anything whatever the team requires. I will go and open also and I am not closing my options right now," he added.
Parthiv Patel and Jos Buttler have been opening the innings for Mumbai Indians with Nitish Rana showing plenty of promise at the number three spot.
Rana scored 53 in 36 balls early in the successful run- chase to become the tournament's leading run-getter.
"I am not going to change (the order) as there's a brilliant batsman (Rana) at No 3 right now. He has got the Orange cap. He's a fearless batsman and takes on the bowlers. It's his ideal spot," said Rohit.
Asked about his return to form in the tournament, he said, "I thought you will ask me about the win. I have been a bit let down at the start, it's not the standard I set for myself, but what is gone is gone and I am not thinking about it.
"It's good to get some runs and I am very happy with the win."
Rohit said he consciously decided not to play against the spin on Sunday.
"These guys were bowling googlies and I was playing against the spin which I was not supposed. Today, I just decided to play straight."
He also praised his team-mates for enabling the team notch up its fourth straight win that has boosted Mumbai Indians to the top of the table with eight points from five games.
"Lots of credit to the players as notching up four consecutive wins is never easy, especially after we had been challenged in terms of conditions," Rohit said.