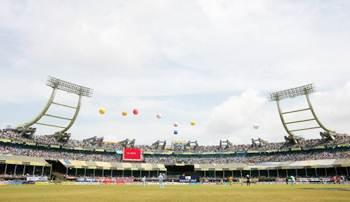 Kochi will host the first One-day International between India and the West Indies on October 8, while the first of three Tests between the teams will be at Hyderabad, starting October 30.
The second ODI is at Visakhapatnam on October 11, while the eastern cities of Cuttack and Kolkata will host the third and fourth ODIs, on October 14 and 17 respectively.
The final one-dayer of the series will be at the picturesque town of Dharamsala.
New Delhi will host the only T20 International on October 22 after which there will be a week's break before the first Test at Hyderabad, from October 30.
Save the Dharamsala one-dayer, the other limited-overs matches are expected to be day-night affairs.
It is still not clear whether the West Indies Cricket Board has requested the Board of Control for Cricket in India for a practice game before the first Test.
The second Test is at Bangalore, from November 7-11, while Ahmedabad has been allotted the third and final Test, from November 15-19.
Full itinerary:
1st ODI: October 8, Kochi
2nd ODI: October 11, Vishakhapatnam
3rd ODI: October 14, Cuttack
4th ODI: October 17, Kolkata
5th ODI: October 20, Dharamshala
T20 International: October 22, Delhi
Test series
1st Test: October 30-November 3, Hyderabad
2nd Test: November 7–11, Bangalore
3rd Test: November 15–19, Ahmedabad.
Image: A general view of the Jawaharlal Nehru Stadium in Kochi.
Photograph: Hamish Blair/Getty Images