Indian pacer S Sreesanth has been sidelined for up to eight weeks due to a toe injury, ruling him out of contention for the four-Test series against Australia starting December 26.
Sreesanth was not picked in the original squad for Australia Tests but the rib injury to pacer Praveen Kumar opened up a possibility of his selection when the national selectors meet tomorrow to pick a replacement player.
Sreesanth's injury has already forced him out of the Kerala team in the ongoing Ranji season.
"I did a bit of ayurvedic treatment and it (the pain) has really come down," Sreesanth told ESPNcricinfo.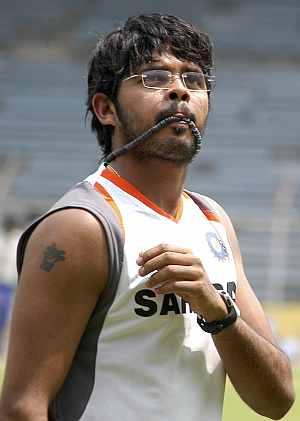 "I was advised surgery but didn't go for it because the last time I did ayurvedic treatment, for a labrum tear on my shoulder, it really helped and I never had to go for surgery. I have consulted the same doctor. The muscles get stronger with physiotherapy. I will start training in Bangalore from December 12," the pacer said.
The Australia Test series ends on January 28 and Sreesanth said he is hoping to be fit for the ODI tri-series, also featuring Sri Lanka, in February.
"I will be out for six to eight weeks. I don't think I'll be fit till the end of the Test series. Hopefully for the one-dayers I will be fit for selection," he said.
Sreesanth played three Tests in England earlier this year and took eight wickets at 61.62.
Earlier, off-spinner Harbhajan Singh had been ruled out of the Ranji group stages due to a shin injury. Harbhajan was also not picked for the Tests against Australia.